Last week I got an incredible opportunity to attend a party hosted by Graco that filled us bloggers in on their incredible new car seat, the SnugRide Click Connect 40. This was my kind of party. It was at a local restaurant, included appetizers and drinks, and each attendee got to go home with a free car seat. All of those things sound much better to me than hitting the town in high heels…oh how I am a mom now:) I was lucky enough to be attending it with some of my girlfriends that I write with over at Scottsdale Moms Blog, and this is a little glimpse at what we were all eyeing all night!
photo by Abbi
The car seat that we got is literally the greatest thing! It is a car seat that safely seats a baby from 4-40lbs. Yep, it is your infant seat as well as your 2 year olds rear-facing seat. It has a kick plate attached so that when Bray gets older and wants to destroy the backseat of my car with his dirty little feet, its all protected! It also has 8 recline positions, so those extra long legs can actually stretch out while still remaining rear-facing.This seat saves you so much money in the fact that its the only car seat you will have to buy for a very long time. And to top it all off..its actually cute: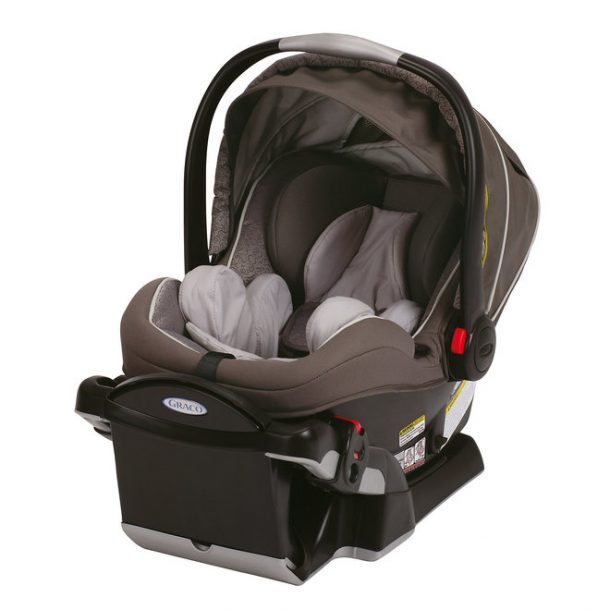 I don't know how many of you are in the market for car seats, but I would have loved it if this was an option when we had Bray. I love our infant car seat, but at 5 1/2 months he is almost past the height limit, and ours is even considered a larger infant car seat! An all in one seat, now thats my kind of purchase! Now if only they could create a car seat that carries it self, because man- my right bicep is getting big and sore these days..and Braylen is only getting heavier!
Disclosure:
The 
Graco SnugRide® Click Connect™ 40
 – the first and only newborn to two-year infant car seat that actually grows with your baby from four pounds all the way up to 40 pounds. The car seat is designed for a parent on the go. The infant car seat can be easily removed from the base and used as a carrier when the infant is small, providing portability and convenience so you can easily move your infant in and out of the car without disturbing them.
The American Academy of Pediatrics recently made the recommendation to keep all children in rear-facing car seats until the age of 2. Graco set out to make this product so parents can keep infants rear facing longer while still keeping them comfortable.
This is a sponsored post written by me on behalf of Graco. The opinions and text are all mine.