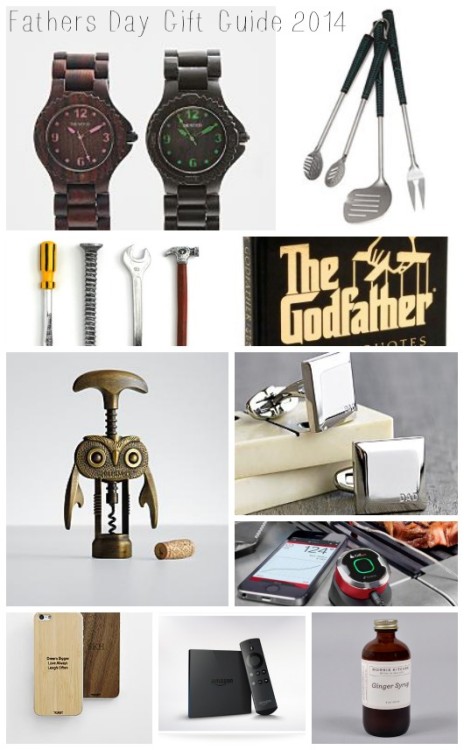 Kale Wood Watch– I love the look of this watch. So different than the typical blingy look, and so masculine! When it comes to watches, there is a lot of styles out there. So everyone's going to have a preference. If you're looking to get your dad something more personalised but practical, a custom photo watch could be a good shout! It's the thought that counts at the end of the day.
Golfers BBQ Set– This is such a fun set if your man likes to do the grilling!
Hand Tool Pens– Have a handy hubby? These pens are too fun to not get them!
The Godfather Classic Quotes– This book is perfect for a movie loving man!
Owl Corkscrew- I am obsessed with this owl corkscrew. If your man loves to share a bottle of wine with you, this is such a fun opener!
Dad Cuff Links- A full suit always needs some nice cuff links, and these ones with Dad inscribed are not only stylish, but so sweet.
iDevices iGrill Mini- For another grill loving dad- this gift is incredible. It allows you to see your grilling temperature through bluetooth on your phone! Genius!
Personalized Wood Iphone Case- Ive seen a few wooden cases around but I love the fact that you could personalize this one for your special guy on Fathers Day!
Amazon Fire TV- Is your guy a tech type? He would LOVE this then. It allows you to see Netflix, Hulu, Amazon instant video, low-cost movie rentals, and more through one tiny box. Looking for more tech gifts for your father? There are lots of cool gadgets to buy for men in this guide from Coolest Gadgets.
Ginger Syrup- Last but not least, if your man enjoys a fun cocktail every now and then, try getting him something fancy for them. This ginger syrup makes an insane Dark n Stormy!
I wanted to make a list of a little something for every type of guy. Fathers Day is in less than two weeks- what do you have planned? We are actually getting Braylen dedicated at our church that morning and then having the whole family over after {as long as I am not having a baby at that moment!}