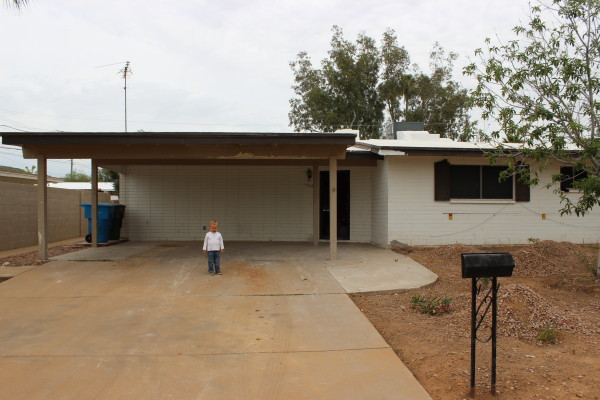 You know when you drive by a home and its the ugliest one on the street, and is in desperate need of a home exterior makeover? And when you go out to look at it in more detail, you notice that even some of the smallest things need repairing. A crack in the wall? That will probably need repairing with the help of somewhere similar to Buildfix to make sure that it doesn't get any worse and then you can focus on the rest of the house instead. Do you know those types of houses? Ya, those are the best homes to flip! It always cracks me up when Jeremy shows me home he wants to look at for flipping, and my first thought is always YUCK! But then I am quickly reminded, the uglier the better. This was no different for our first home flip here in Phoenix. The front yard AND backyard were in dire need of help- so thats just what we did:)
The front yard was all rock, dirt, and ugly bushes. We wanted to not only add character,but make it a more livable space. We leveled it all out, added grass and two medium sized trees. We still want to change the yard because at the moment it's just ugly slabs of concrete so we want to contact Austin Decorative Concrete Solutions. I was thinking of also changing the roof up as well as the concrete slabs, I was a bit worried when I first got there that there was a bit of damage. It wouldn't be the end of the world, but it's certainly a bit of a pain. I probably would have just had to call up a roof repair company though.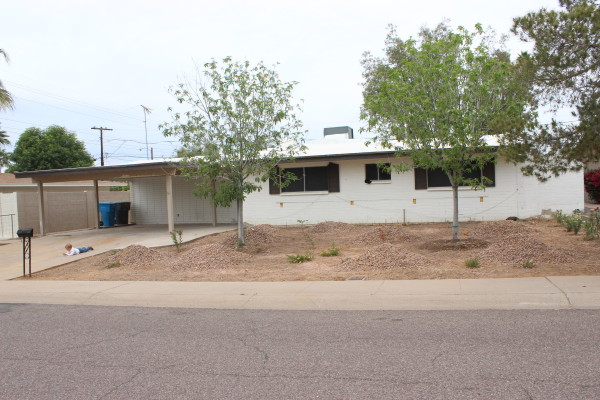 We also ended up painting it with a grey coat of paint, and added a paved patio, which is awesome for entertaining: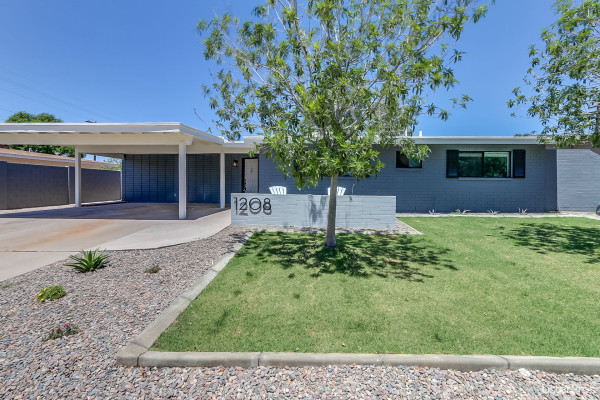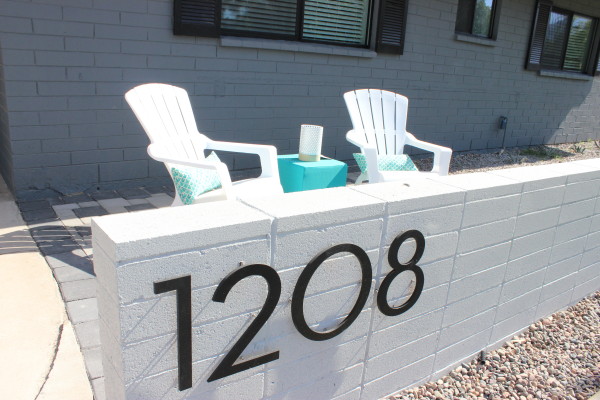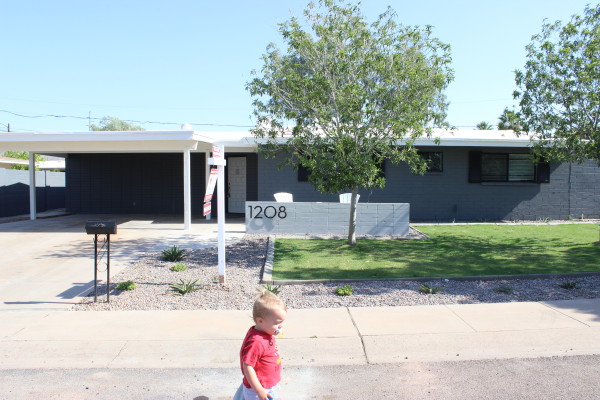 I love the oversized house numbers, and the way just a little bit of paint can make an exterior seem so much more modern!
The backyard was in terrrrrrible condition when we bought the home. Totally overgrown, hideous rock wall, and just bad all around!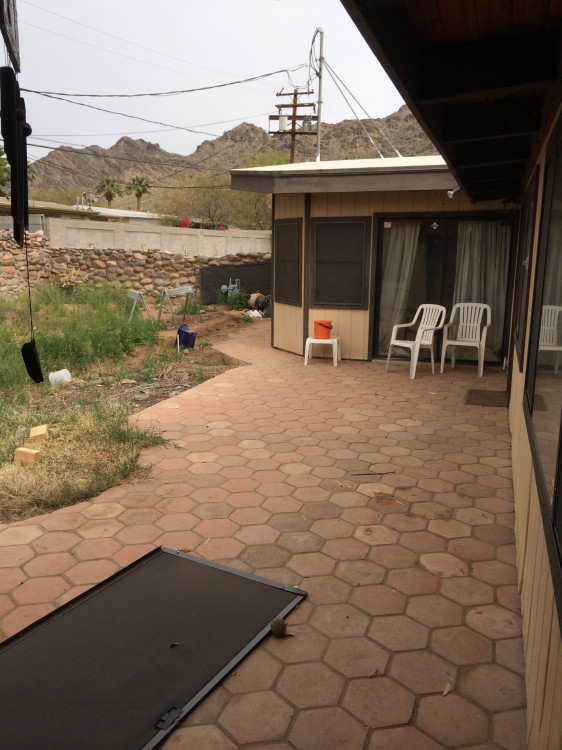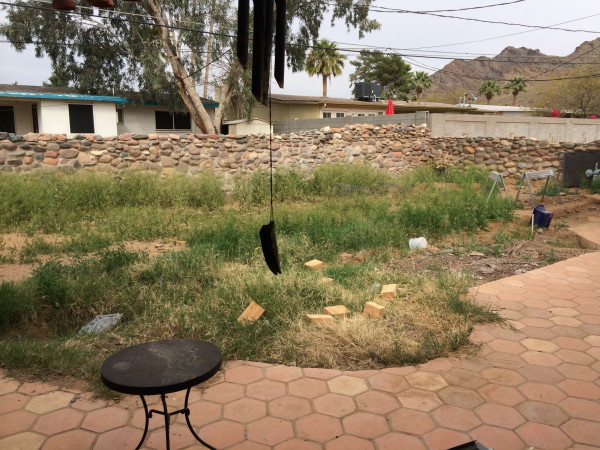 It was incredible how much better it looked just after clearing out all the weeds and covering up the ugly rock wall with a wooden fence: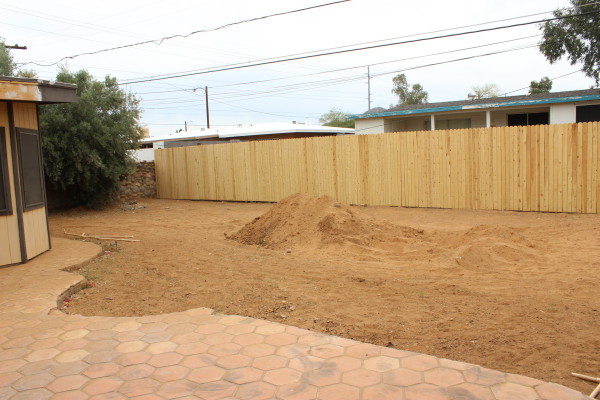 And then finally, after putting in grass, some bushes, and painting- it was totally transformed! At one stage, after coming across some images of granny flat designs in Sydney, we were tempted to build a granny flat in the yard too. A granny flat would be an excellent place for some of our elderly relatives to live, or we could even rent it out to other family or friends in need of somewhere small to live. In the end we decided to focus on getting everything else in order first.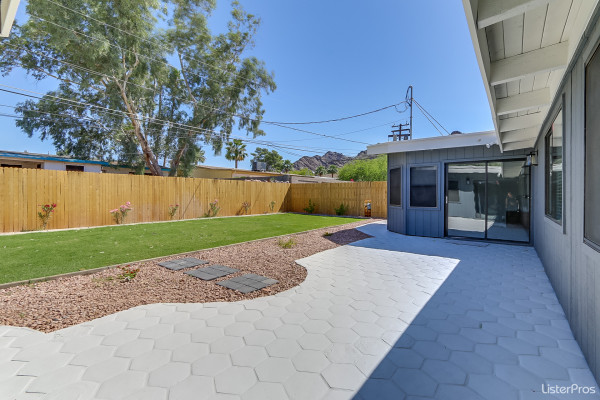 If we had to give some tips for transforming a homes exterior, this would be the order of what we think makes the biggest impact:
landscaping
paint
new windows
small details to add character
After writing this post it makes me eager to want to start working on our homes exterior, but I realize that that is a job that is just too large for us right now! Some day, some day friends!