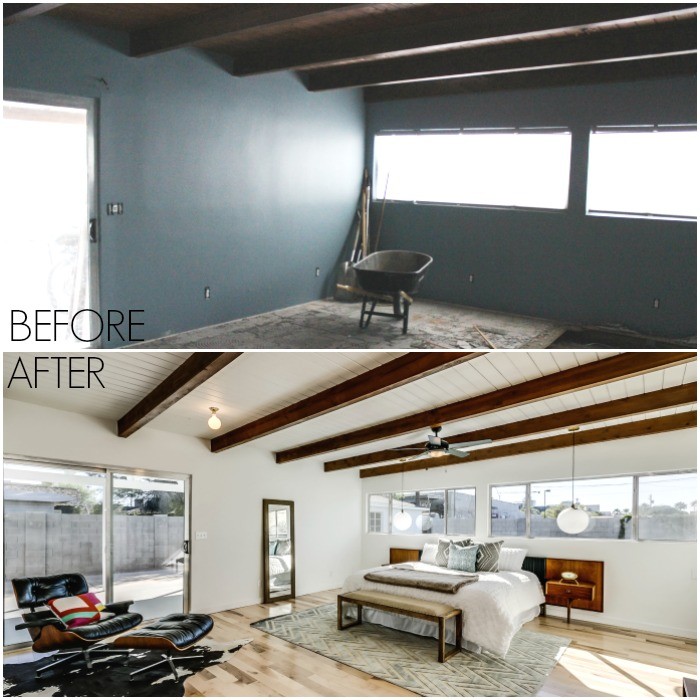 Ahh, the Master Suite of Willo. From the second Jeremy and I walked in to this Master we knew it had the potential to be beyond incredible. Just look at those ceilings! We knew with some TLC and paint, that those would be total show stoppers.
The Master on this house is actually a really great size. After having a company like Sign Windows come in and updated the windows to double glazed glass, the bedroom has so much natural light between the two large windows spanning out almost the entire length of the back wall, as well as the sliders that lead to the backyard.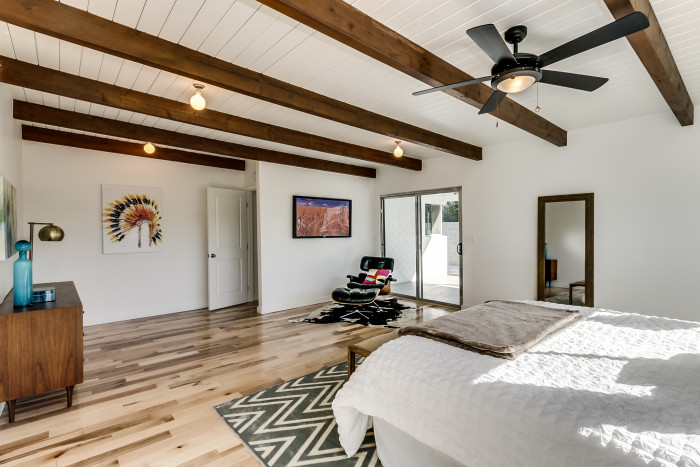 We added those amazing pendant lights to the ceiling, and I love how not only dramatic they are, but how they pull your eyes up as well to that planked ceiling! We were originally keen on the idea of fixing up the old lights that were there and contacting someone like those at barnettelectrical.com/electrical/professional-lighting-repair/ to help us out with it, however, we felt they drew from the aesthetic of the room and decided to have them completely replaced instead. The bed that Modern Manor staging also put in the room is perfect, so maybe the new owners will want to keep it?!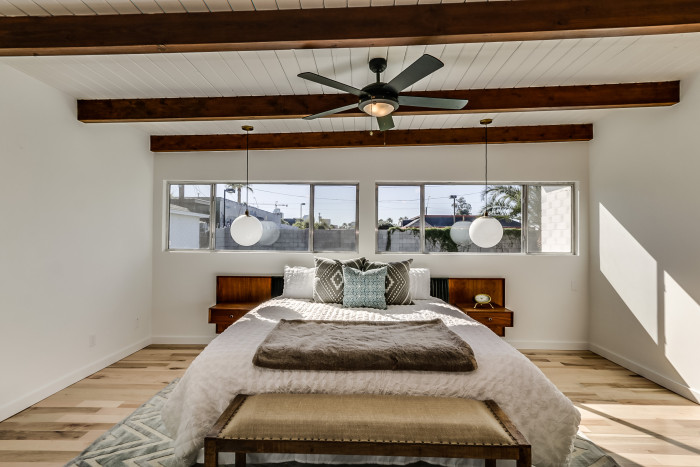 The Master bath and closet are right off the room. The closet is an immediate left from walking in the bathroom, with the beautiful original brick straight ahead.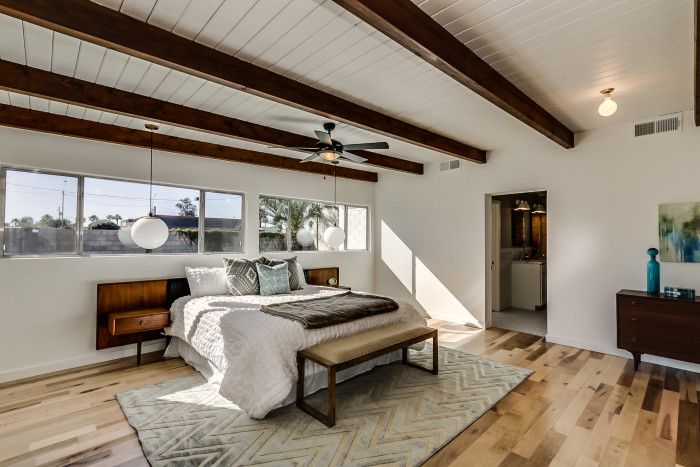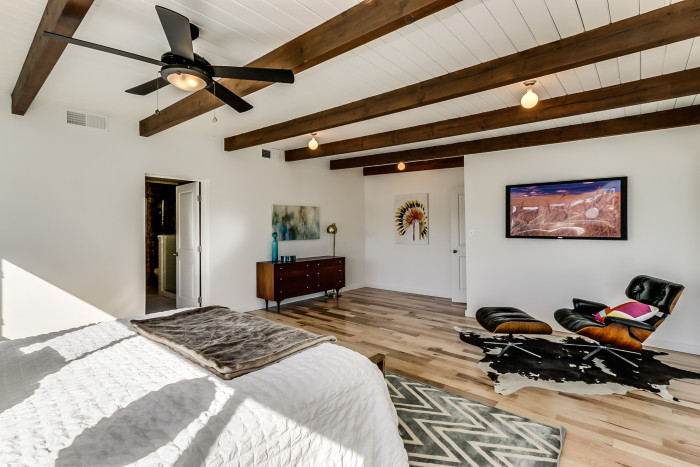 You all know already how much love I have for that original brick, but when you mix it with the marble, the white tile work, the classic floors- well its my dream.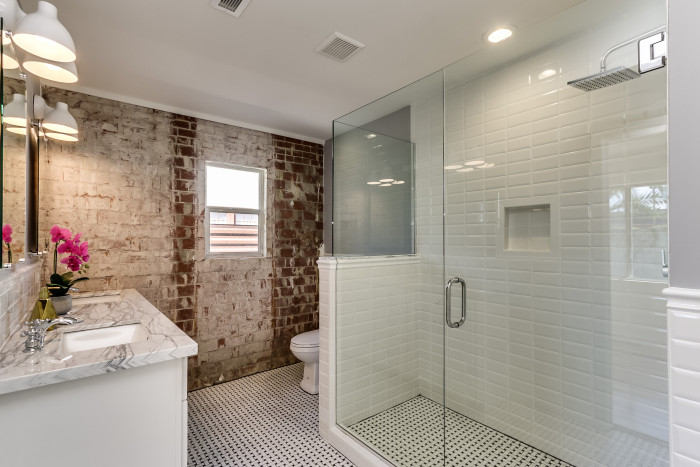 The vanity is nice and big for two people, or in reality..the perfect size for the girl to take up most the space and leave the guy a few inches;)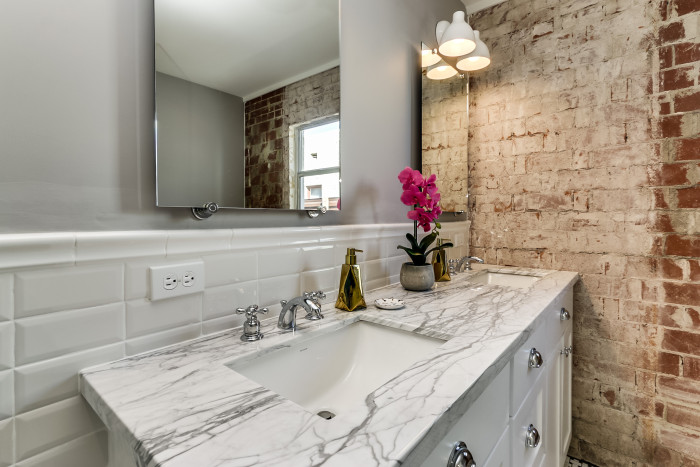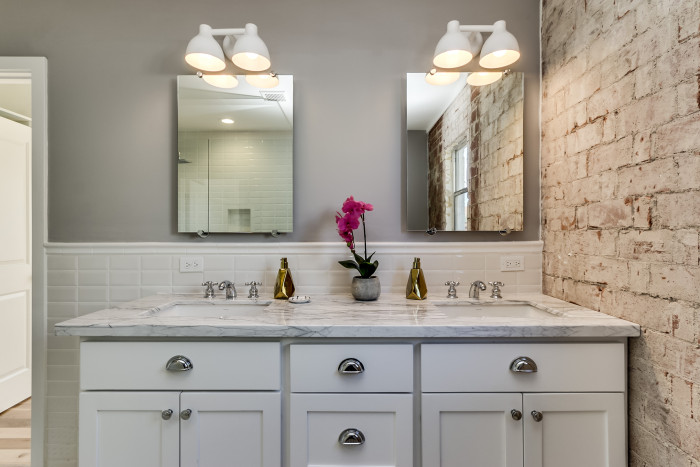 The shower though, oh my gosh- that space is huge. Like, throw the whole dang family in there and get the job done! Currently in our home, if you follow me on Instagram, then you know Jeremy and I have a peach bath tub. Its not pretty, nor is it large. So as we keep designing these homes with big beautiful bathrooms, I keep lusting after them for myself;)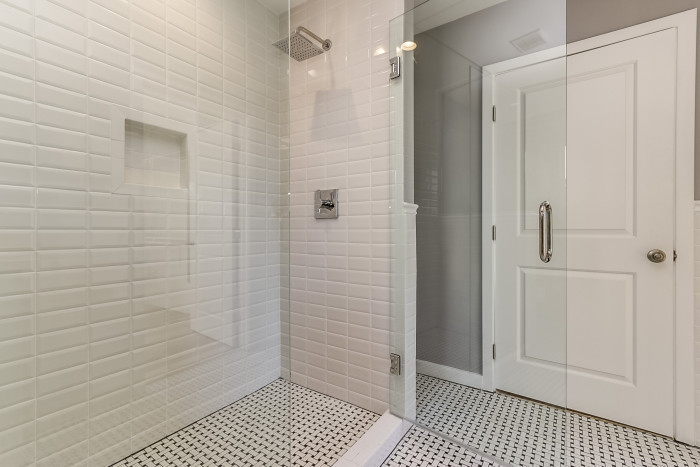 The closet in this Master is ridiculous! It is large enough for ANYONES amount of clothing, has great natural light from the window, and the cutest sputnik light feature to boot. I feel like most closets you walk in to these days don't have any source of natural light. And I don't know about you, but when I am trying on outfits, it is so nice to be able to see what they truly look like, instead of what they look like by my lamp:) It has builtin shelving, rods, and hardwood floors like the rest of the home. It's just pretty dreamy in general.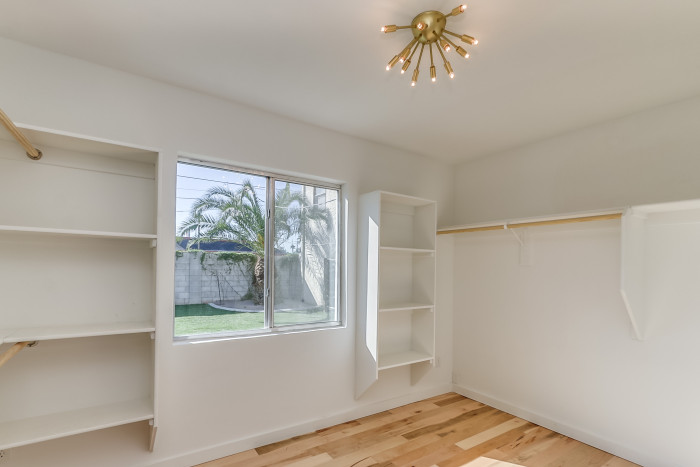 I love when we have homes that have such good bones already that all we really have to do is make them pretty again. And this Master Suite was just that. Now when someone walks in it they don't feel like their in a cave or a cabin because of the dark wood ceiling and cement flooring. Instead its nice and bright and beautiful! I love that change!
Sources:
Bedroom ceiling fan- Wayfair
Bedroom Pendant light- West Elm
Bedroom big bulb lights- School House Electric
Bathroom white lights- West Elm
Bathroom cabinet hardware- Knobs- Amazon Pulls- Amazon
Bathroom Mirrors- Amazon
Bathroom faucets- Wayfair
Bathroom Sink- Wayfair
Ceramic Chair Rail tiles- Lowes
Bathroom floor tile- Floor N Decor
Beveled Subway tile- Home Depot
Closet light- Modern Manor