You guys, first things first. I am giddy right now because Jeremy found some of the original photos he took from the Guest House flip before we started demo! This house flip had a few issues and ended up being pretty challenging but I think it was worth it. I've seen that a few of you are unsure what a flip is so before we show the house, I'll explain it first. A flip is where you buy a property, repair what needs to be repaired, make some improvements like a new kitchen or an updated exterior, and then sell it on for profit. You want to sell it as quickly as possible so most people go to someone like We buy houses Avon, IN because they can get a free cash offer straight away. There's no point waiting for your house to be sold on the normal market when you can be starting the next flip! We're now going to look to sell the house and see how much we can make off it. So now I've explained that, I finally get to show you some TRUE before and afters! Ok, now..here is the Kitchen before: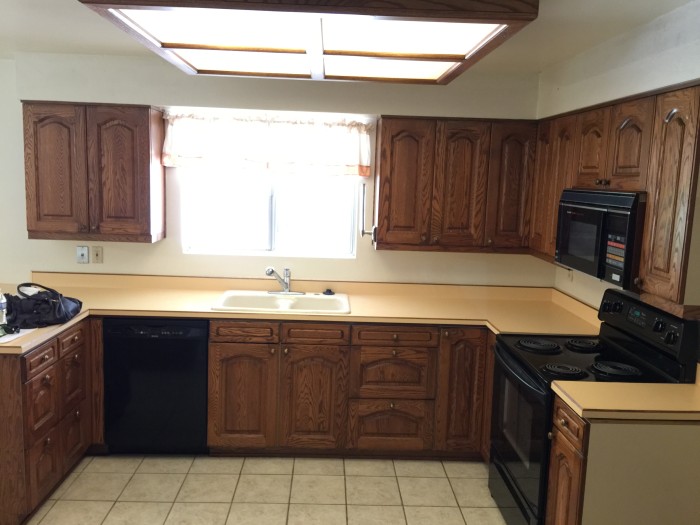 And then now: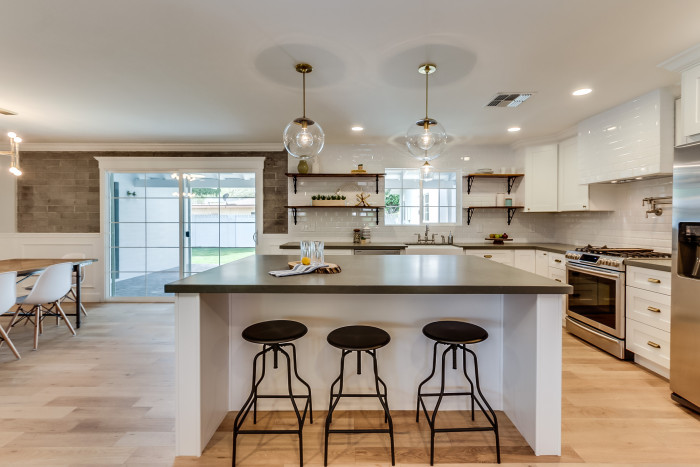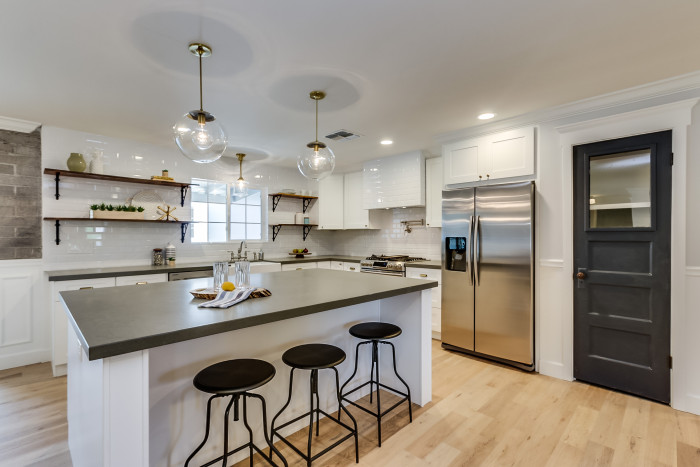 The old kitchen had lower ceilings and a pretty outdated light box. Well, everything was outdated. The counters, cabinets, appliances, you name it- it got taken away. And by taking away a wall in the kitchen, and opening up the entire front room- we were then able to add in a nice big island for plenty of counter space!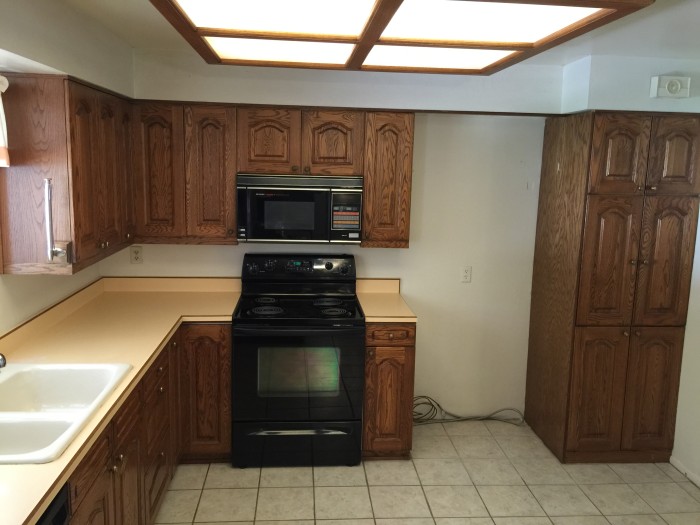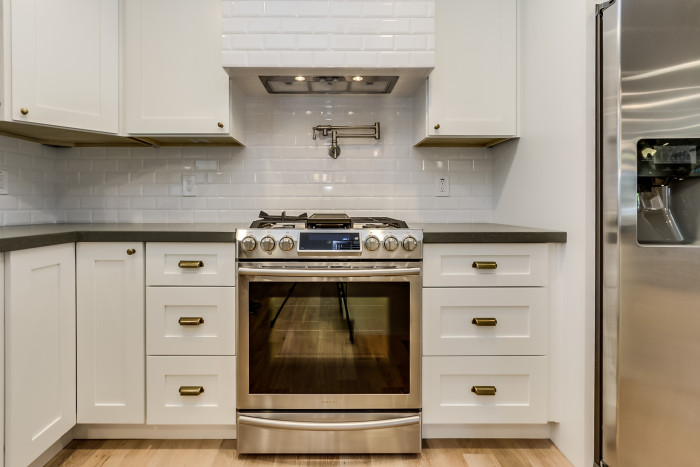 Whenever we can, we add a pot filler for the stove. It is a total luxury item, but one that will get used constantly! And we love the one we got from Moen. It is built so well it will probably outlast the stove!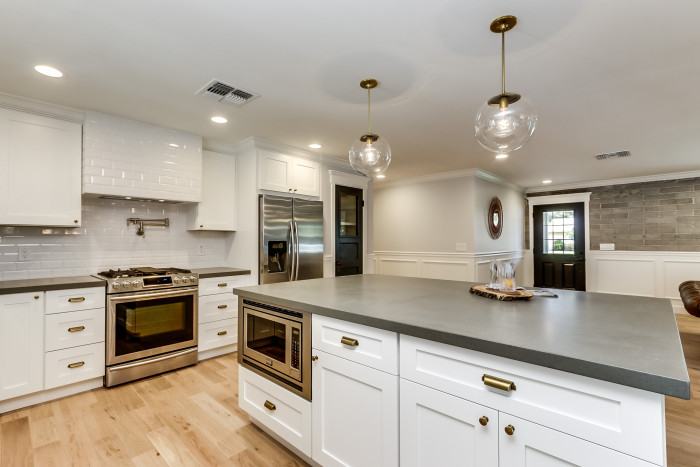 Now we are firm believers in always trying to keep a fireplace in a home if possible, but unfortunately in this home it had to go in order to open it up how we wanted. But I think the view from the kitchen to dining room makes up for it.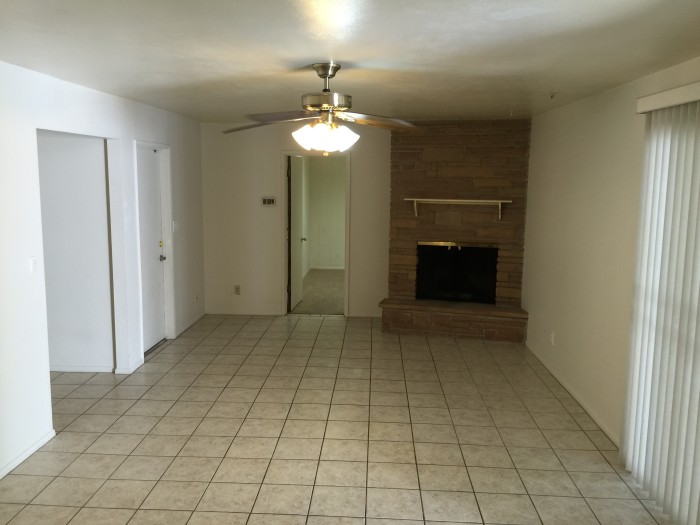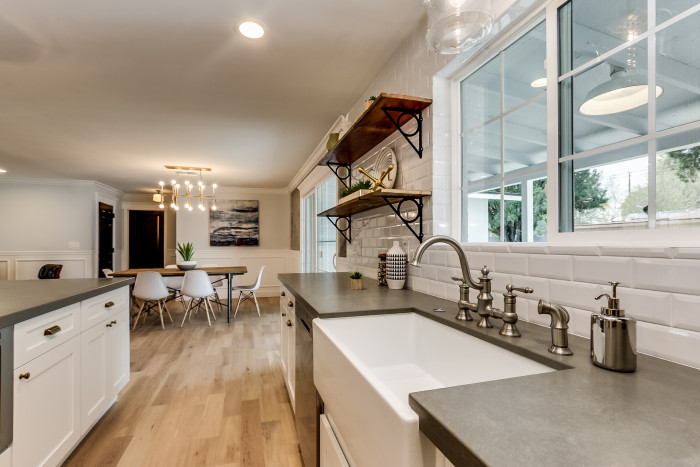 I love the counters we ended up using in here. We originally wanted to do cement, but unless we were just striking out with bad luck- we couldn't find anyone to do them for even a remotely decent price. Everyones quotes were outrageous! So we went with a quartz that looks almost exactly like cement. We also went with our long time love, an apron front sink- and our favorite faucet from Moen. At our home we have a much lower quality faucet, and man if I am not envious every time a flip uses this one because it is so nice!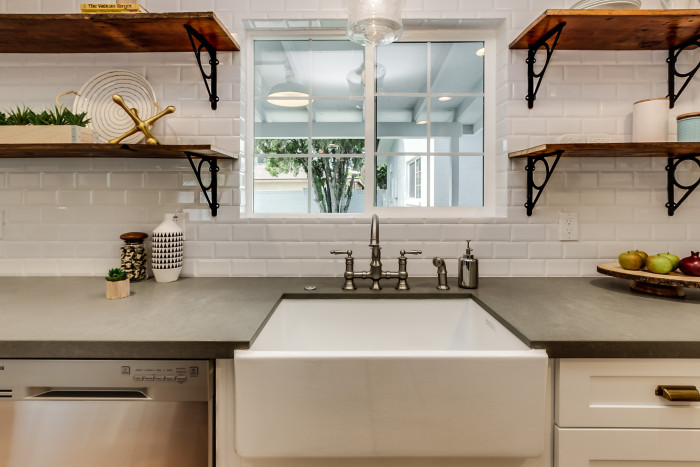 Another fun before shot of the dark and dingy kitchen from the current dining room: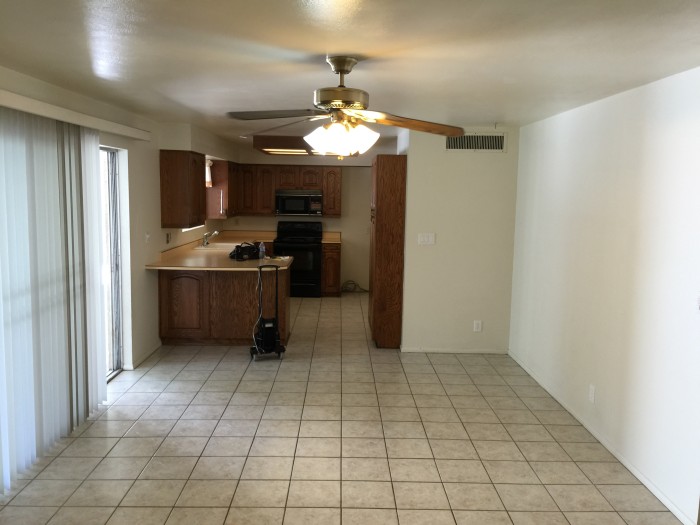 And that Pantry door is such a fun pop. It is painted the same Navy as the front door.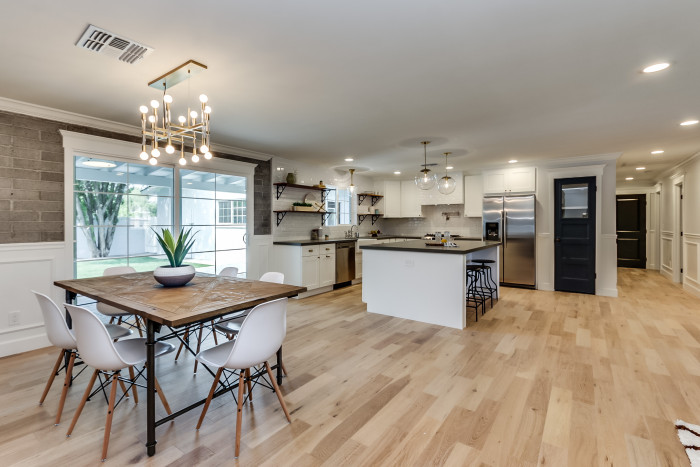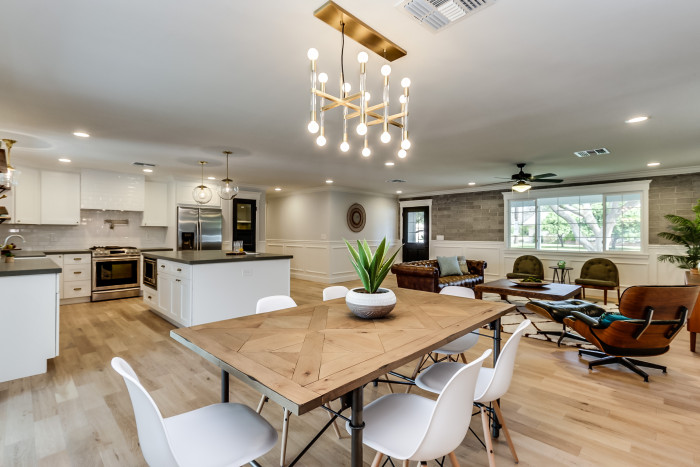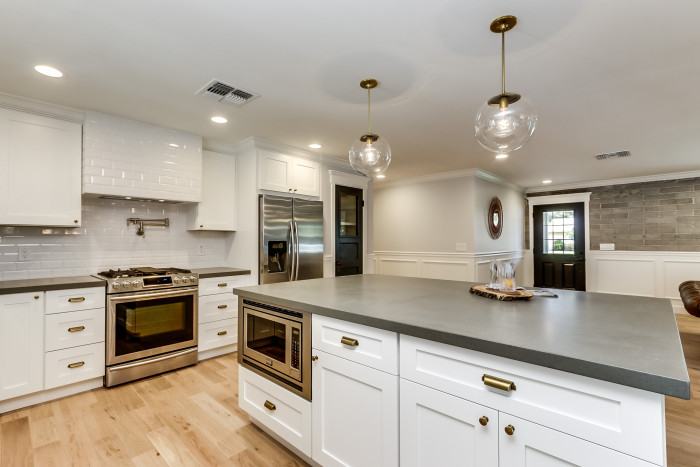 Thats the kitchen. And I love that I am finally able to show you guys the true Before's so you can understand what I mean when I say the transformation was huge! Here are the sources for the space:
Counters- Metropolis Quartz
Cabinets- custom
Pendants over sink- School House Electric
Pendants over island- School House Electric
Beveled Subway Tile- Floor and Decor
Sink faucet- Moen
Pot filler- Moen
Open shelves wood- Porter Barn Wood
Open shelves brackets- Signature Hardware
Apron sink- Lowes
Cabinet Hardware- Home Depot