It is here, it is here..and it is beautiful! We have been patiently waiting to get a new sofa for a long time now, and now we have the sofa of our dreams. It is seriously the most beautiful thing I have ever sat on. For the first week or two, every single time I sat down on it I just smiled ear-to-ear.
Monarch was so amazing to work with on this sofa. We were able to hand pick each and every single thing on this. We went with their Kenzie style sofa, in Hampton Brandy Leather. We did a few things that were considered an 'upgrade'. We went with a higher quality leather than the base, and we went with a Synthetic Down fill for the cushions. Those two things have made this to be one of the most comfortable things I have ever sat on. Which is awesome for comfort, terrible for productivity. Jeremy and I never want to get off the sofa anymore!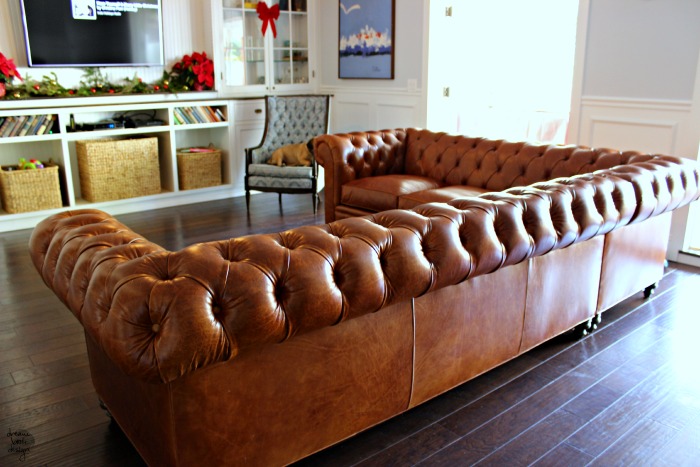 My other favorite thing about it is the fact that it is leather. Not only does it feel amazing, and look amazing, but I am already in love with how it holds up. We have already had a drink spilled on it, and it wiped right up. We have never had a leather sofa of our own before, and it is so nice now especially with having kids for the ease of cleaning!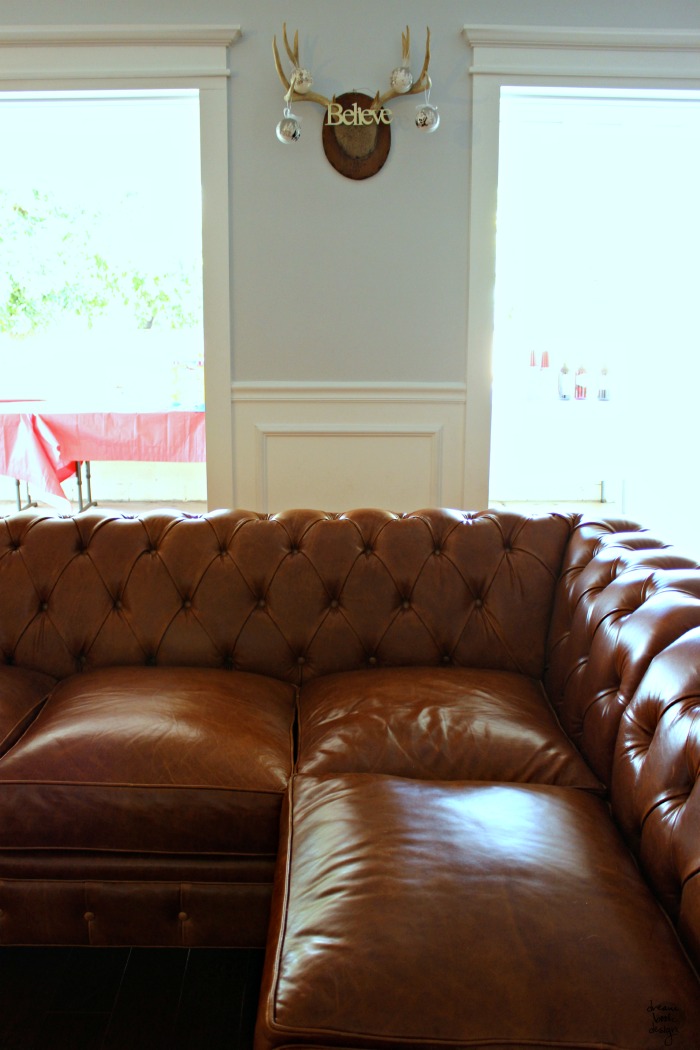 Now I know it can be scary thinking of ordering such a big piece online without ever seeing it in person, but this whole process was so easy and great. Monarch was amazing in dealing with my million and one questions, and they sent me as many samples of leather and fabric as I wanted. It initially made me nervous, but once we started the ordering process I was put at ease. And then when the sofa finally showed up, man it was worth it! And, it is amazing to think about how much money we saved by doing it through this company, rather than say, walking in to Crate and Barrel and picking one out. Not only did we save money from it, but we also got exactly what we wanted!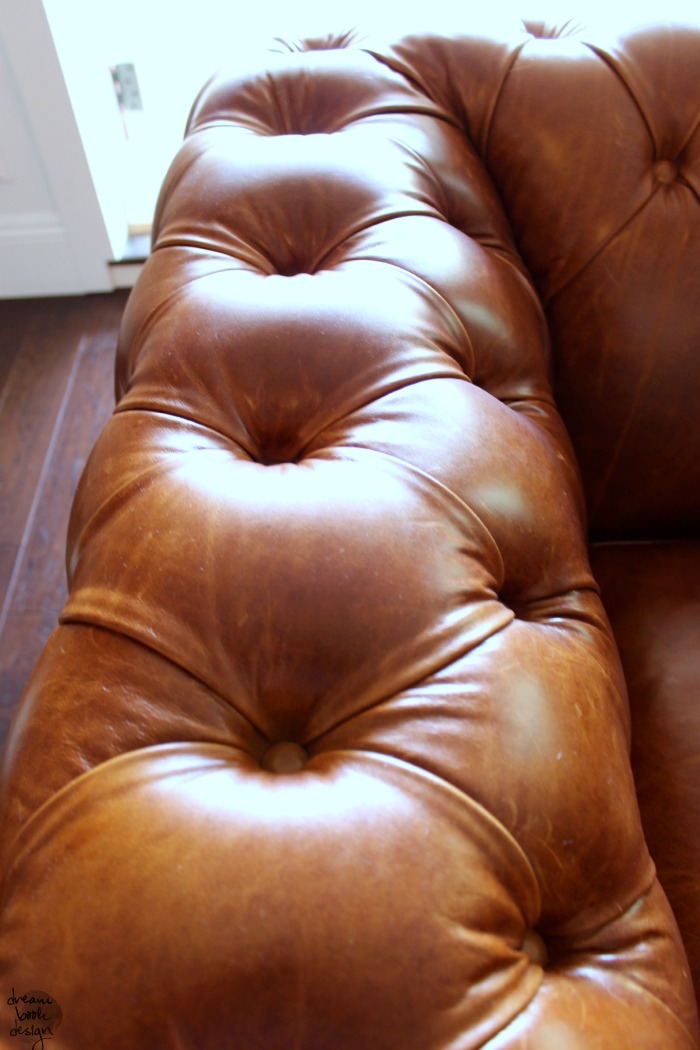 To see our whole process on this, check out our first post here, and then Tips for Choosing a Sofa here.
We are so in love with this thing, and the statement it makes in the room. We also have no rug in the room currently because our old rug clashed so badly. We ordered a Jute rug from RugsUSA on Cyber Monday, when it was 75% off! I can't wait to get it, and then either DIY or buy a coffee table. Can you believe we have never had a coffee table in this house?! We are weird, I know!
Here are all the specifics of our sofa for anyone wondering:
Hampton Brandy Leather, with a synthetic down filler, the legs were 'kenzie' and finish was Dark Walnut. We did no nail heads, and did piping/welting in lieu of the nailheads. The size of ours is 125L x 96L x 38D x 31 Frame Height. Hope that helps:)
Disclosure: We partnered with Monarch on our new sofa.