Wow you guys are the best. The best way that I can explain how it feels to reveal a finished home to y'all is like Christmas morning. I anticipate the day for a long time, and then when its finally here- well I am just giddy all day long! The comments, shares, opinions, etc. that you all gave since have been just amazing. SO THANK YOU!! Today I am sharing some details on the Living Room of Double Dormer. I will also be sharing a super easy Fall craft this week, so be sure to check back in!
Now for the Living Room, the hub of the home. As you have already heard, the fireplace was by far one of my most favorite things about this home when we first saw it. It had so much character and was in pretty decent shape, to where we were able to salvage a lot of it.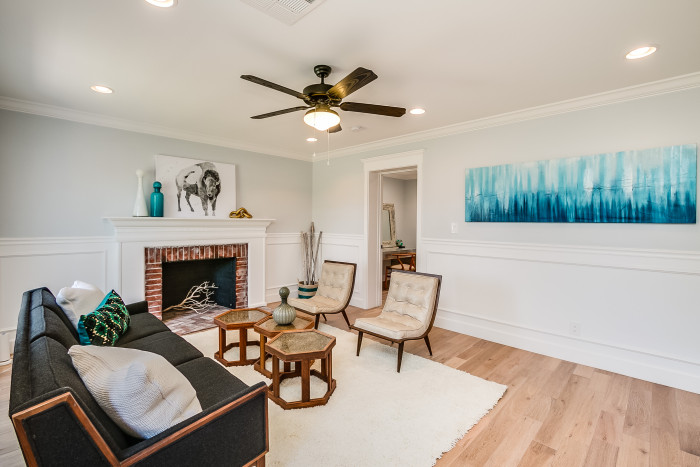 To add a lot of character to the base of the home we add wainscoting, base boards, and crown. Because who doesn't love this type of moulding? We do, even when we DIY it at our own home!  For the grey paint we used our favorite grey- Sherwin Williams Olympus White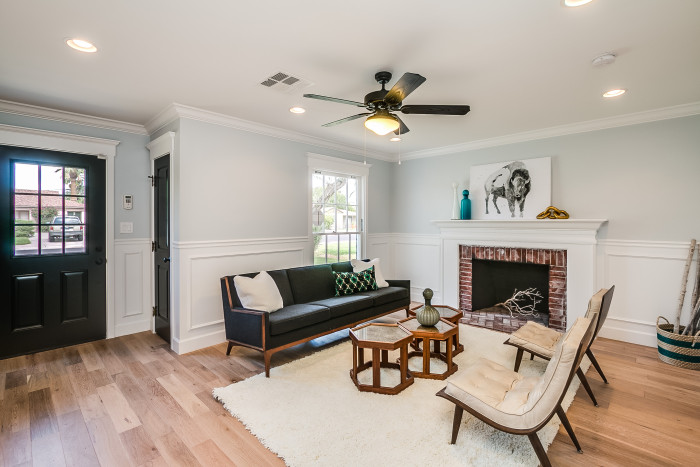 A lot of you have asked about the flooring. I talked briefly about them on our Periscope we did of the home tour on Saturday. Yes, yes, I know Periscope is yet another social media thing to have…but for us and the ability to show yall a true 'in person' feel of a home…its so rad! So back to the flooring- they are hardwood Oak flooring. Unfortunately- they are strictly sold to contractors, but I am sure there are many things out there similar.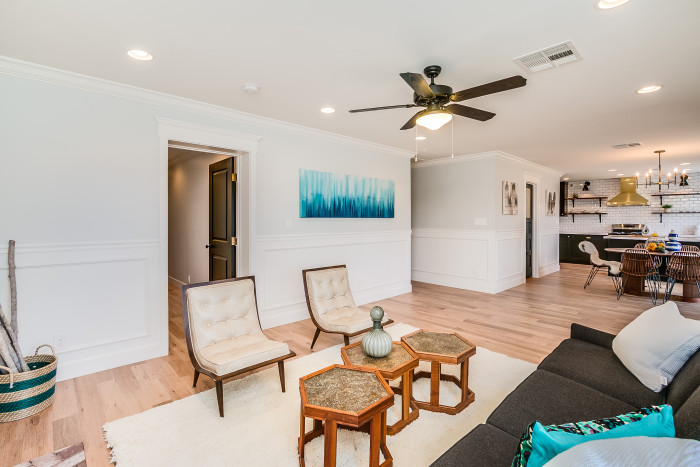 From this room you walk in to the Master Bedroom, the hallway to the guest bath and other two bedrooms, and immediately in to the Dining Room. We love how open it all is, but yet each area for sure has its own feel!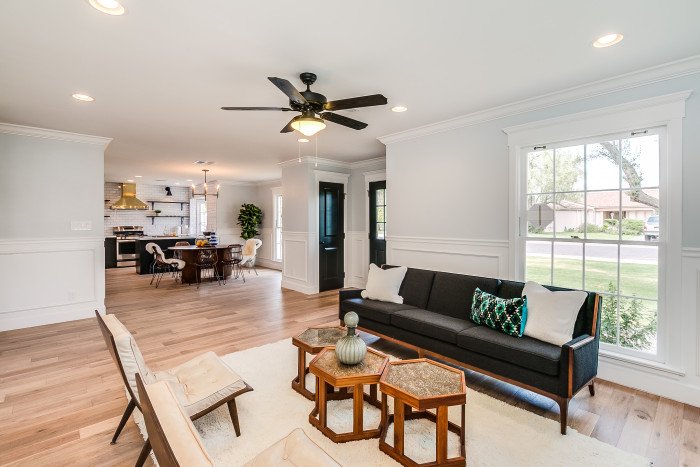 Right inside the front door is two small coat closets, which especially if you have kids- you know you can never have too much storage, especially right as you come in the door with all the backpacks and gear!
For the fireplace we were able to keep all the Mantel and direct trim work original, as well as the top brick. We did have to replace the bottom because the previous brick was pretty damaged. Man oh man, what I would give to have a real wood burning fireplace here in Phoenix. While we wouldn't use it nearly as much as someone elsewhere, it is magical when it is used!!! For those of you that have asked, the Buffalo artwork is from World Market . Modern Manor did the entire staging job on this home, and while they use a majority of the props straight from their store, they love mixing in new pieces here and there!
So tell me, what is your #1 favorite thing about this room, and what is your least favorite. I cannot get enough of hearing everyones thoughts- I truly love it!!