Today I am sharing an awesome DIY door trim tutorial because we are really wanting a classic Southern/Georgian Mansion-y feel to our new desert home. One major way we wanted to do this was with our trim work. We wanted the doors to feel really grand. You see, if we can't live in an area that this comes 'stock' per say, we will just spend countless weekends and trips to Home Depot to make it happen. Smart right?! Ah, if only we could freaking transplant all of our family and friends to another state… Dream on Adri, dream on! So without further ado, here is our tutorial to change your doors from no trim to Classic Southern Mansion {and if you live in a Southern mansion and your doors look much more grand than this, don't burst my bubble- ok?!}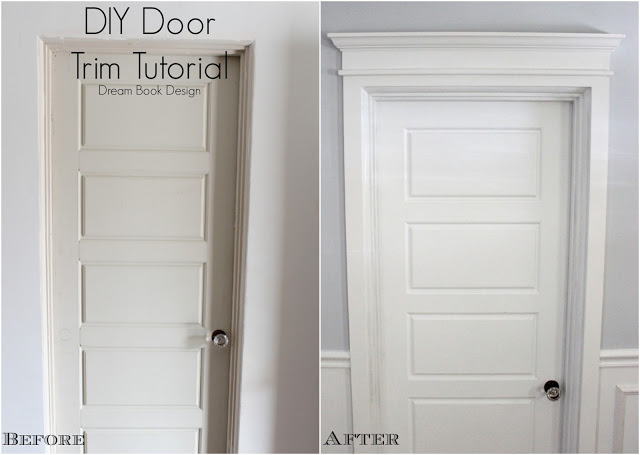 Table Saw
Mitre Saw
Glue
Finish Nail Gun
Router
Level
Triangle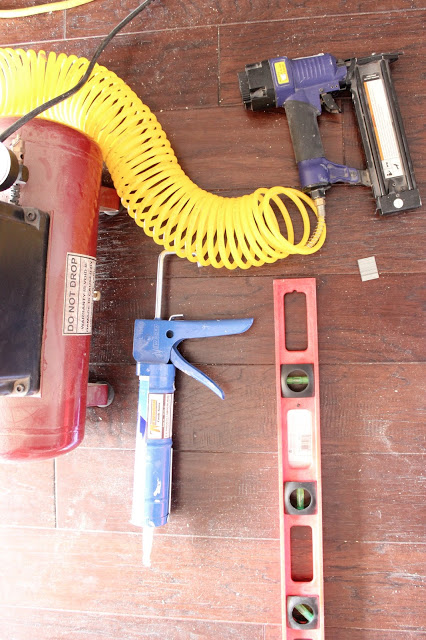 1 – 1″ x 4″x 8′
1 – 1″ x 2″x 8′
2 – 1″ x 3″x 8′
1 – piece of 2 1/4″ crown
Sherwin Williams Super Paint in Extra White Semi-gloss
For the trim pieces we used primed pine boards. We chose to do this because the boards were not terribly expensive (probably about $20 per door in wood) and they were already primed. If you wanted to save money you could always use a MDF 4'x8′ sheet of MDF and have it cut in strips.
1. Cut a 1″x2″ to the width of your door frame plus your side trims (Piece #1). For example our door frame was 32 1/4″ wide plus 5″ for the 2 1″x3″ side pieces (remember the 1″x3″ are actually only 2.5″ wide and not 3″). We then cut the board to 37 1/4″, leveled it above the frame, glued and nailed it with the finish nailer.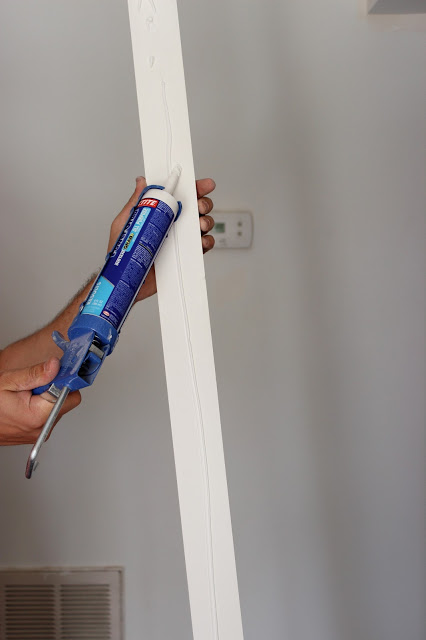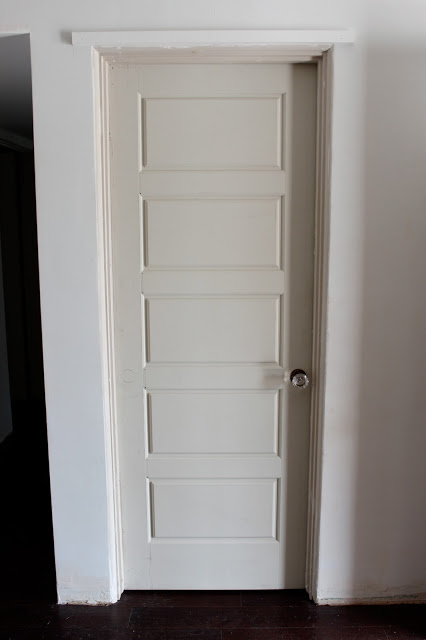 2. Next its time to install the side 1″ x 3″s. (Piece #2 and #3) These are simple, just cut to size (measure from the ground to the bottom of the trim piece you installed in step 1).
3. For this next step you take a 1″ x 2″ cut it to size. You want to have this piece extend 1/2″ over each of the side pieces so it needs to be 1″ longer than your previous 1″ x 2″. Next you need to shave it down to 1 1/4″. This step isn't totally necessary but we didn't want it to protrude too much so it was worth shaving a 1/4″ off.
4. Take the board you just trimmed and run it through your router. We used a 1/2″ bit that rounded corners. Round the top and bottom of the front and both sides (We used the side of the board that we did not cut as the front). If you don't have a router you could always use a orbital sander but it will definitely take a lot longer and wont be as exact.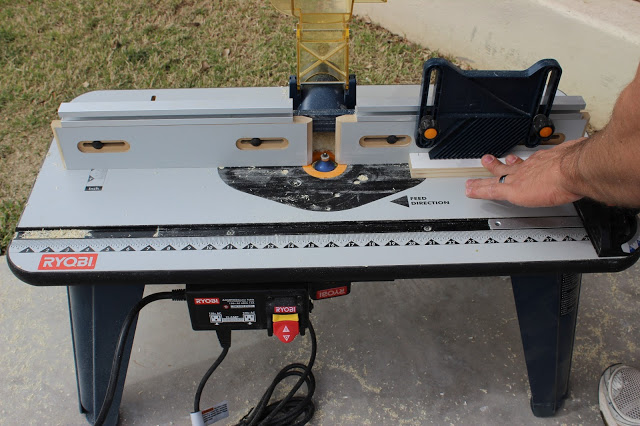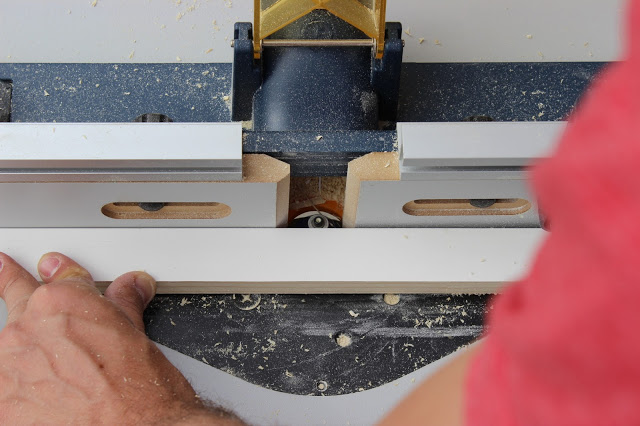 Mark the hangover 1/2″ on each end.
5. Lay the trimmed board (#4) perpendicular to your top trim piece (#1) It should protrude out approximately 1/2″ in front and on each side.
6. Next you trim a 1″ x 4″ (Piece #5) to the same length as Piece #1. Make a mark 1″ down from the top of the board using a triangle. This will be used for installing the trim. Install it directly above Piece #4.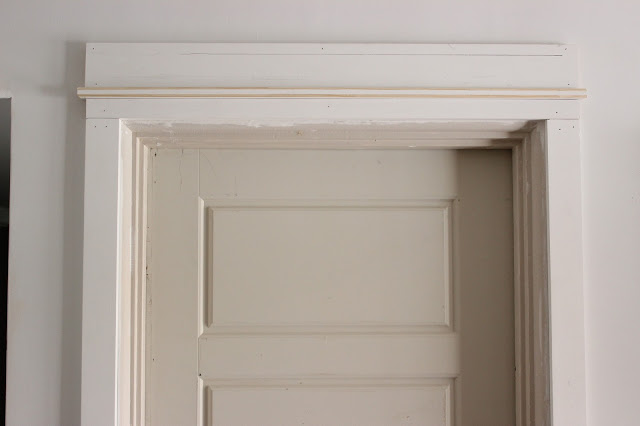 7. The trickiest part of this is cutting the crown pieces for the top. There are plenty of you tube videos that show you how to cut outside corners but we have some photos that may help. One trick J does is he always marks the angle he needs with a pencil, he says it helps him visualize the cut. So to do this you can hold the trim piece up on the wall and mark it.
Essentially you have to cut crown upside down using a 45″ mitre saw. The top of the crown piece has to be pressed firmly to the saw table and the bottom side of the crown has to pressed against the fence of your saw. Once your cut it made you and have to rotate the saw blade to the other side to cut the other end. For outside corners the top side of the crown has to be longer than the bottom side \___/. J suggests using a scrap piece to get the hang of it and how the corners go together. In total you will have 3 crown pieces to cut; 1 front (Piece #6 \___/ ) and 2 side pieces (Piece #7 |_/ & #8 \_|). I hope my drawings using backslashes help 🙂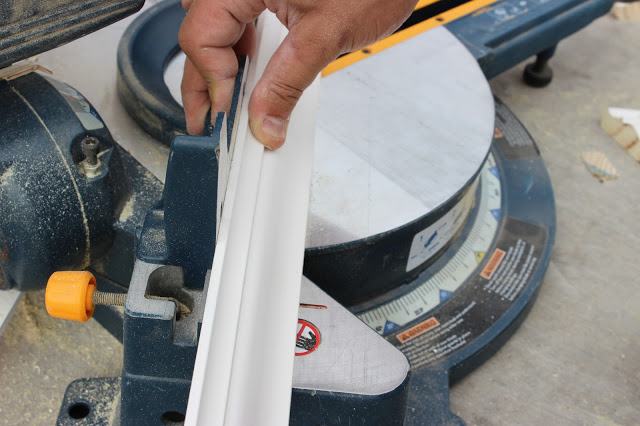 Test the fit before you install. You can also glue one corner before you nail it up (this saves some time and ensures at least one corner will be perfect) :).
Once the crown pieces are cut, install the Piece #6 and then fit #7 & #8 into place. You will want to put some glue on the corners to help create a strong bond.
Last step will be to fill the wholes with spackle, sand, caulk and finally paint. We used Sherwin Williams Super Paint in
Extra White
as our paint for trim (same as we used in our
Kitchen/Dining Room
)
If you ever get to a point during this tutorial and think "man, I feel like I just read another language with all those numbers and measurements, then realize we are good friends! This type of project is something I personally could never feel comfortable with doing on my own. Cutting the wood, totally. But that's only if Jeremy was telling me exactly what measurement to cut it at! I can pretend all day long that I am a fabulous DIYing mama, but truth is that I need J for a whollee lot of these projects:)
Also, I would not recommend doing this without some professional help. Especially, if you're working on your entry doors, you've to make sure that all the measurements are accurate. Hope this helps any of you that were wanting to add a punch to your doors. And if you live in a home that trim like this came stock, well- just now a girl back in AZ is working hard to have what you have;)
What little things like this in your home are things that you are just driven crazy by, knowing that other states have that all over? Wrap around front porches, yea- totally dreamy, and totally not in Phoenix. Brick laden streets? For sure not here- but I don't even know where?