As bad as our Master bathroom has always been at our home, that wasn't the one I was most embarrassed about. I was way more embarrassed by the Kid's bathroom because it is also the guest bathroom. Downstairs we only have that bathroom. My parent's side has one too, but we obviously don't have guests go over there. So this whole time we would have guests walk into this hot mess down below. As you can see it doesn't exactly look great, in fact, it looks very drab and not at all a place I would want to be in so we wanted it to look a lot better. Obviously, with a revamp there are certain parts that you just want to touch up, but in some cases installing new bits and pieces is the way to go. We were thinking about putting in a B-5897 2-wall grab bar to help people get up from the loo as this would come in handy for older guests, but we decided against that for now and will potentially revisit that option later.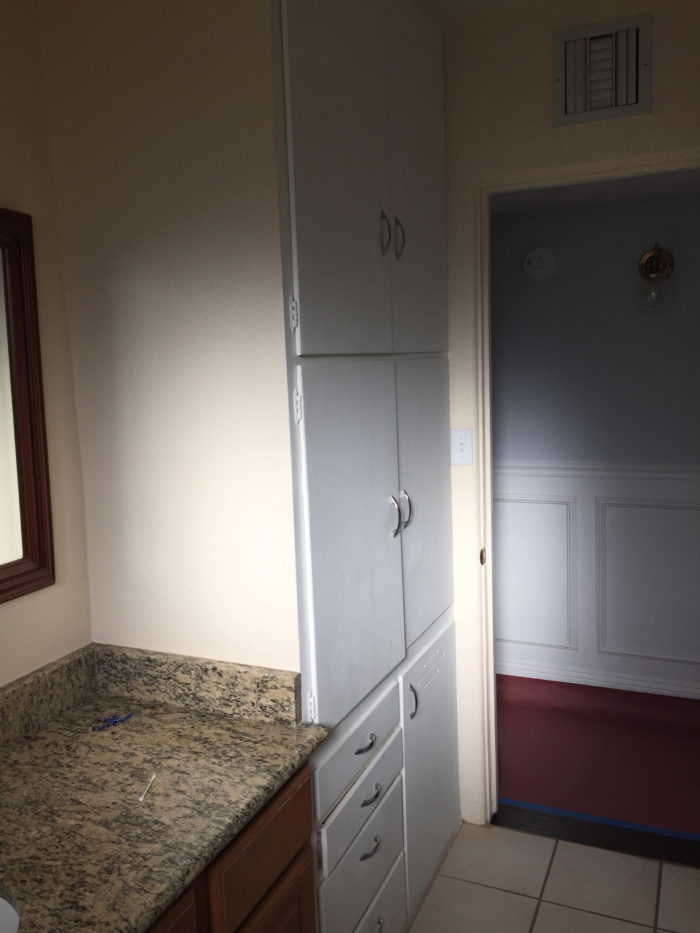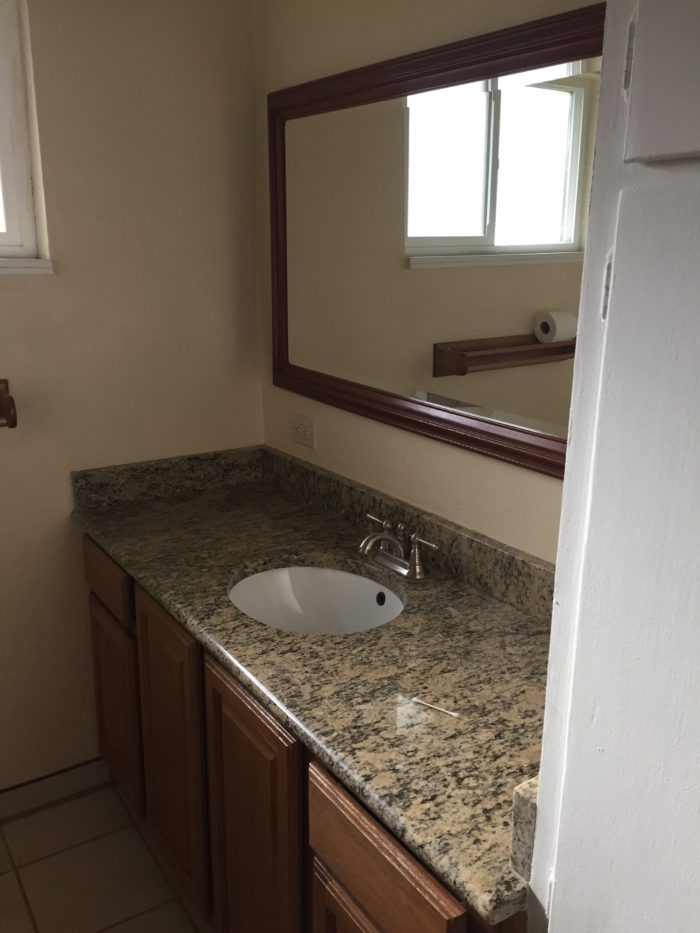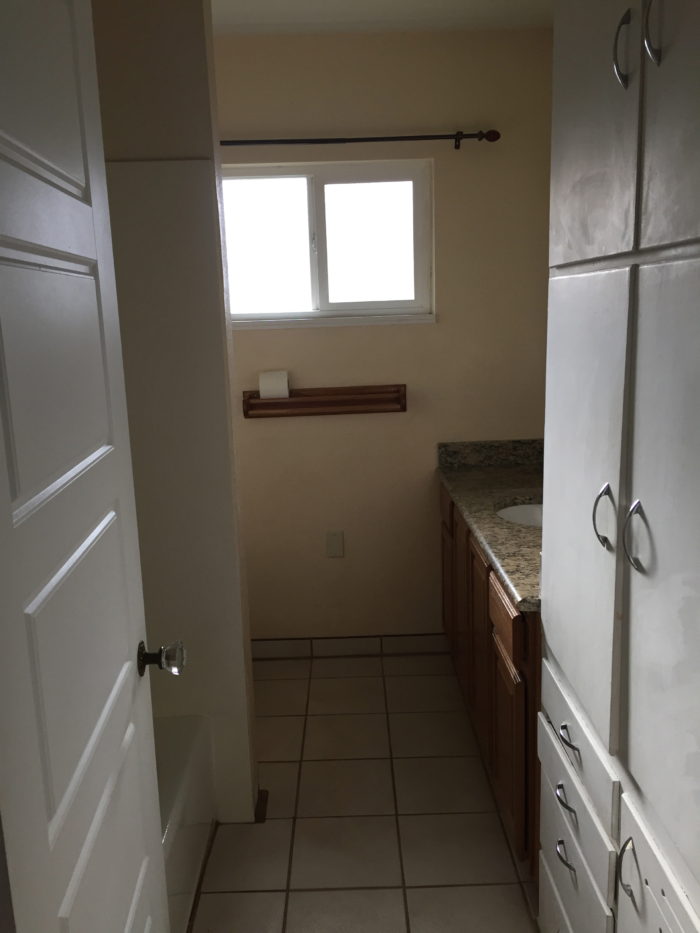 Just like in ours, we didn't touch a single thing in here prior to the remodel. Everything functioned fine, so we just left it as is. It always felt so weird having the rest of our home nice and then this! But now, well now its one of my most favorite rooms in the house!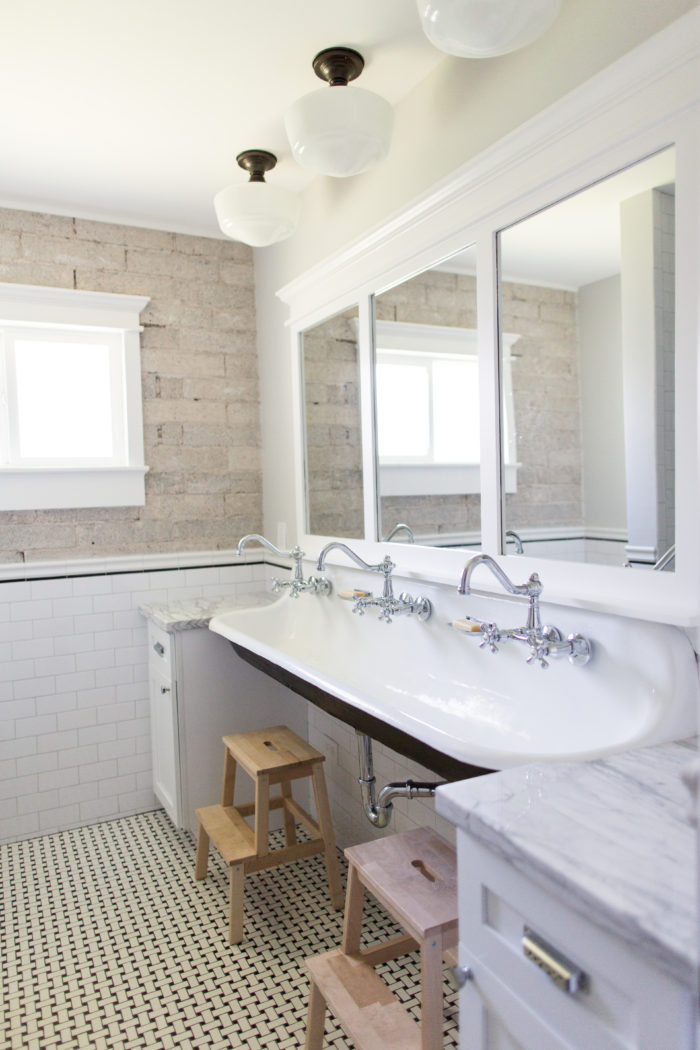 We scored that amazing trough sink from Craigslist. It was on there for a long time, which is surprising to me! We had our guys resurface it, and then paint the bottom to have a nice contrast! We actually debated for awhile on it, because while it is super rad looking, I was nervous it just wouldn't be practical. I am laughing at that thought now, since it has been a life saver so many times already. It is the sink Bray uses when cleaning his art brushes, when I need to rinse out baby poop from clothes, you name it. And since its so big, the boys can wash their hands and splash around and its still totally fine.
Changing the sink and piping wasn't as smooth of a process as we would have liked but we made it work! It was recommended to us that we may need to find a PEX repiping provider as the pipes may have been unusable, and while we didn't need to use the PEX pipes in all parts of the renovation, we're very glad we listened to the advice for some parts of the bathroom as it made the repiping much easier. At the start, we had no idea about PEX but now we've installed piping, got the pex crimper on the market, and have a fully renovated bathroom thanks to it!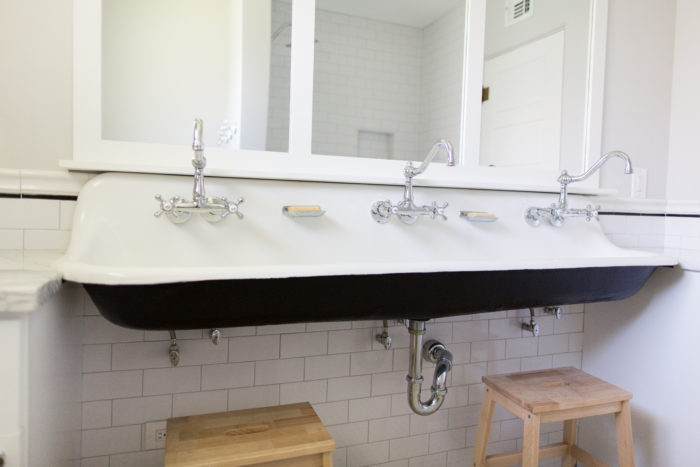 And I also love the cheesy factor in the three faucets. Three kids, three faucets..perfect! At first I didn't know how well the kids would be at using the Thieves bar soaps we have there, since they normally use pump soaps, but I honestly think having the bars makes them wash their hands even better.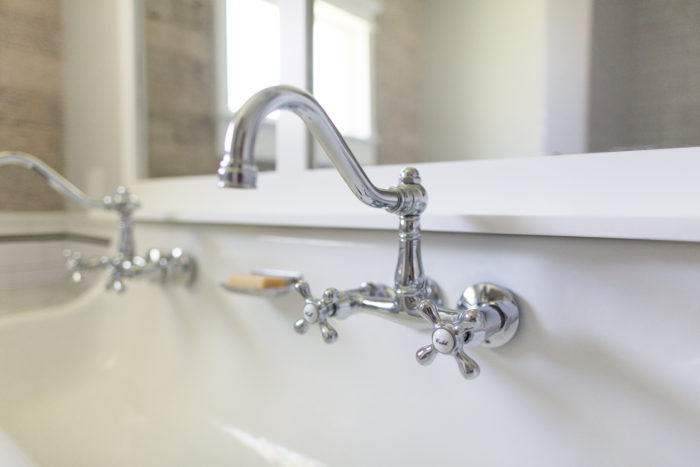 We had our amazing guys custom build the mirror. I knew exactly what I wanted in my mind, but we couldn't manage to find anything like it- so we drew it out and they built it! I love how it turned out, and love that it has a little ledge to hold stuff.
For the room itself, we took out all the cabinets and counters. My main fear with having the trough sink was that we wouldn't be able to have any counter space, but thankfully we were able to add a counter on each side, with lower cabinets. By taking out those big cabinets, the room feels so much bigger now. We also were able to remove some of the wall and expose the old grey block wall. Its totally crumbly in spots, which makes me love it even more.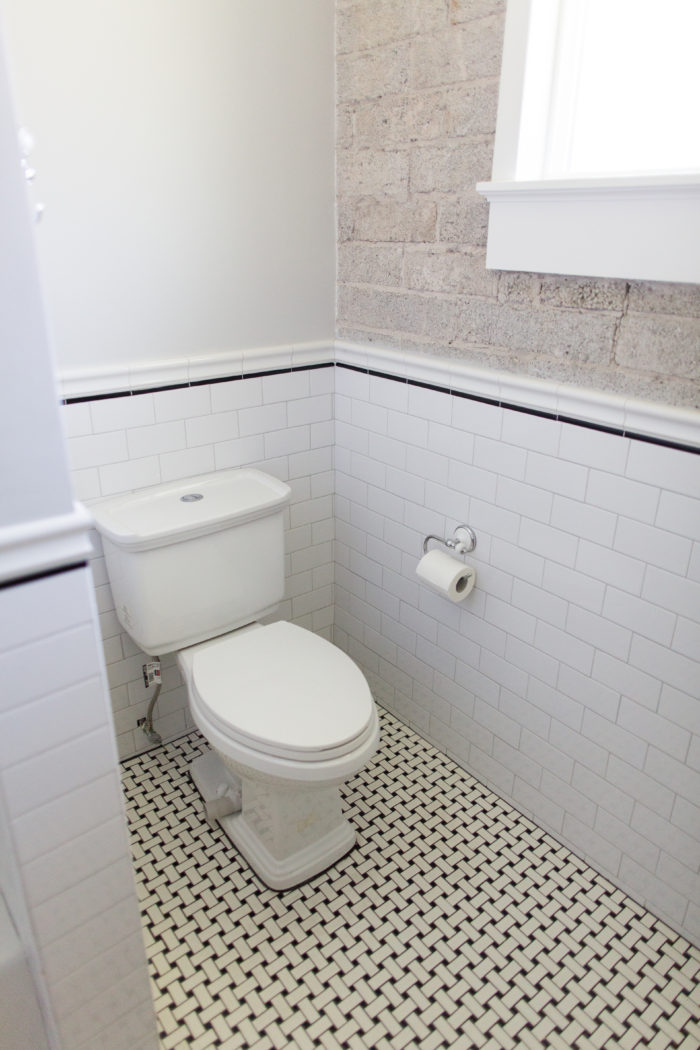 We went with a classic black and white basketweave flooring, white subway tile wainscoting with a black pencil tile border. The contrast between the old block wall and the new subway tile is pretty dreamy if I do say so myself.
For the tub, we simply had them resurface it since there were some cracks here and there. The shower got subway tile all the way up, and Moens beautiful tub and shower kit. The shiny chrome always is a beauty, especially against the crisp white tile!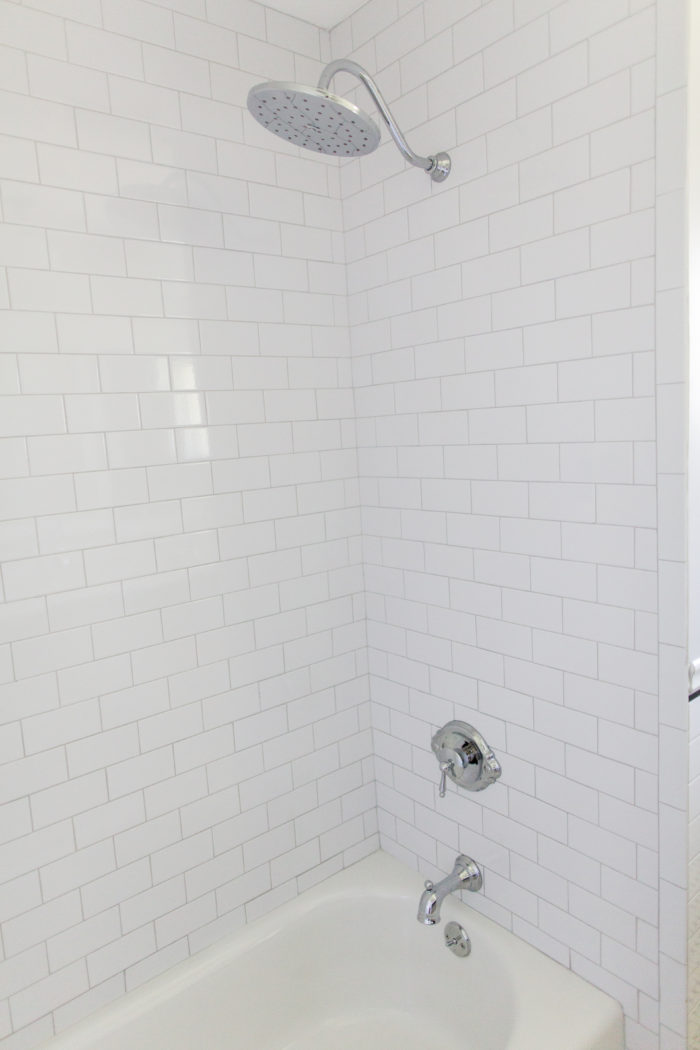 We added three little hooks to the wall for the kids towels, and I love that it is behind the wall, so you don't see them when you walk in at all. Lets just pray the kids don't pull them down in to the toilets any time soon;)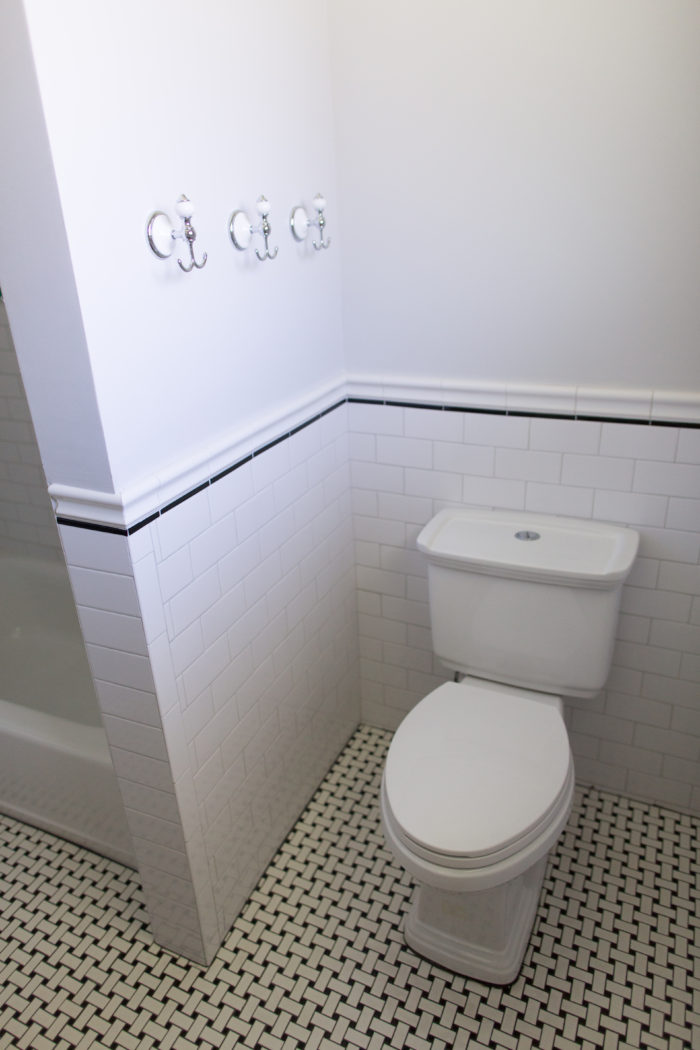 The bathroom is a million times more bright and airy, and now is a room that I am proud to have people enter instead of embarrassed!!!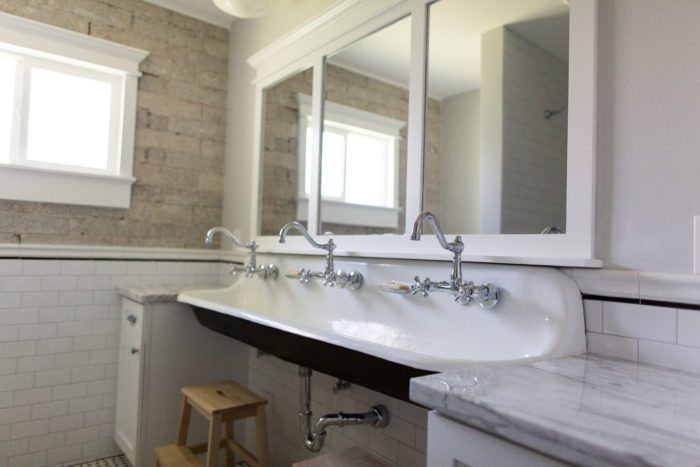 Sources:
Trough sink- Craigslist
Counters- Bianco Venatino
Sink faucets- Amazon
Kids Stools- Ikea
Tub/Shower kit- Moen
Towel hooks- Home Depot
Lights- School House Electric