I told y'all earlier this week how the bathrooms ended up taking about 6 weeks longer than anticipated, but man was it worth it! I am SO excited to show you today the full reveal of our Master bathroom. I'll show you the boys bathroom next week. Its equally as good but we're just waiting to install modern medicine cabinets in the other bathrooms.
Ok, so lets start at the beginning. Our bathroom was in need of an update in every sense. Since we moved in three years ago, we have done exactly nothing to them! Apart from the time we had to call out an emergency plumbing service to bail us out when a pipe burst! Sure we could've spent a hundred bucks and painted them to at least put a tiny bandaid on it, but that would be like putting a tiny circle bandaid on when your attempting to cover a full skinned body.
So we did nothing. We didn't even bother taking down so random towel holders that we never once used. Or the in wall toilet paper holder that was broken from day one. It all just stayed there, for THREE years! And it always would crack me up when people would be like, oh I love your home…and then walk in to the bathroom and kinda be speechless.
Jeremy and I are both always on the same page with always wanting to do a project only when we can do it fully. No small things to tide us over. We wait till we can 100% do it how we want! And so thats what we did. We patiently waited, and then we DID IT! Not everyone may have the time to do renovations on their own, which is where the help of a leading renovation company could come in handy.
Here are the before's of our Master bathroom. To help you understand a little of it too, let me explain how many dang closets were in our Master. We have a huge walk-in, then a mirrored closet right outside the bathroom, a small storage closet right outside as well, a medium storage closet inside the bathroom, and two storage closets inside the bedroom. Yes, it was insane! So to make the bathroom much larger we took away all but the large walk-in, and one of the storage closets in our room. The rest of that space got put in to the bathroom, and its so great. We never needed all the storage, so this solution is 10000 times better.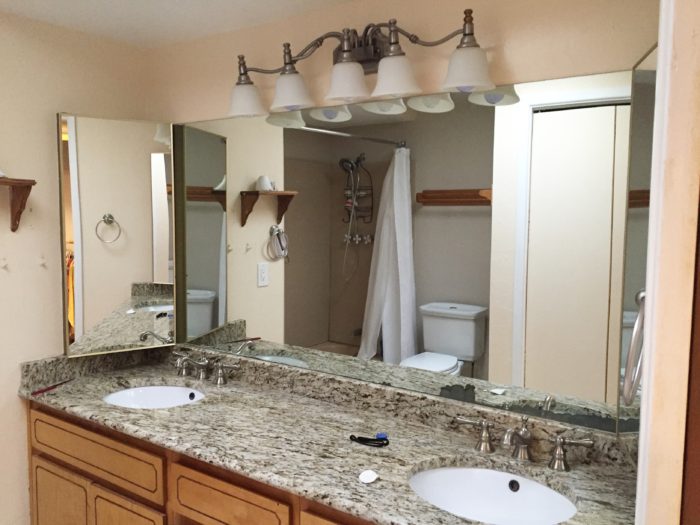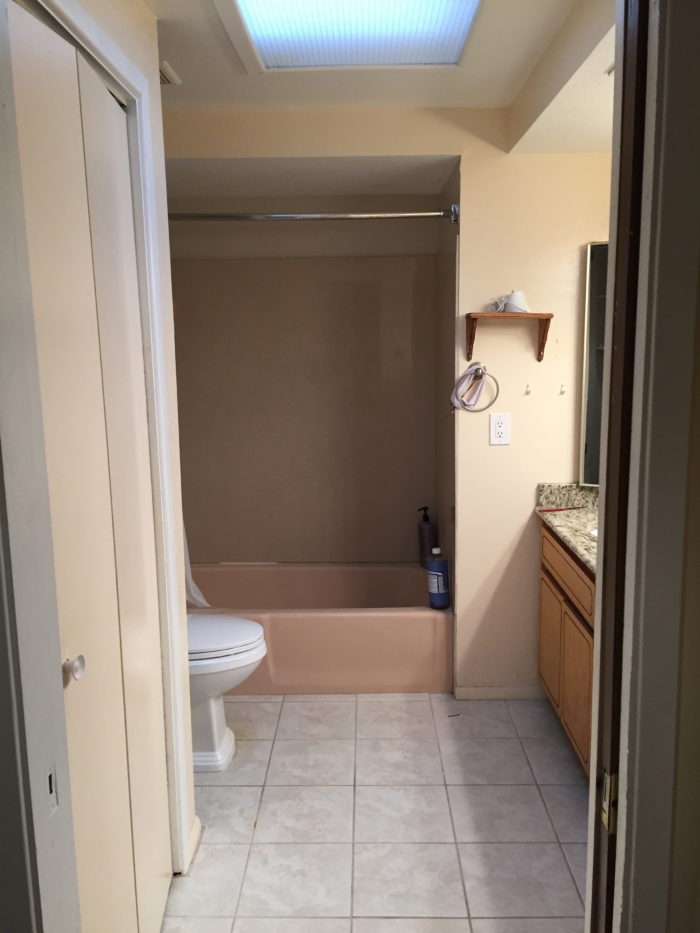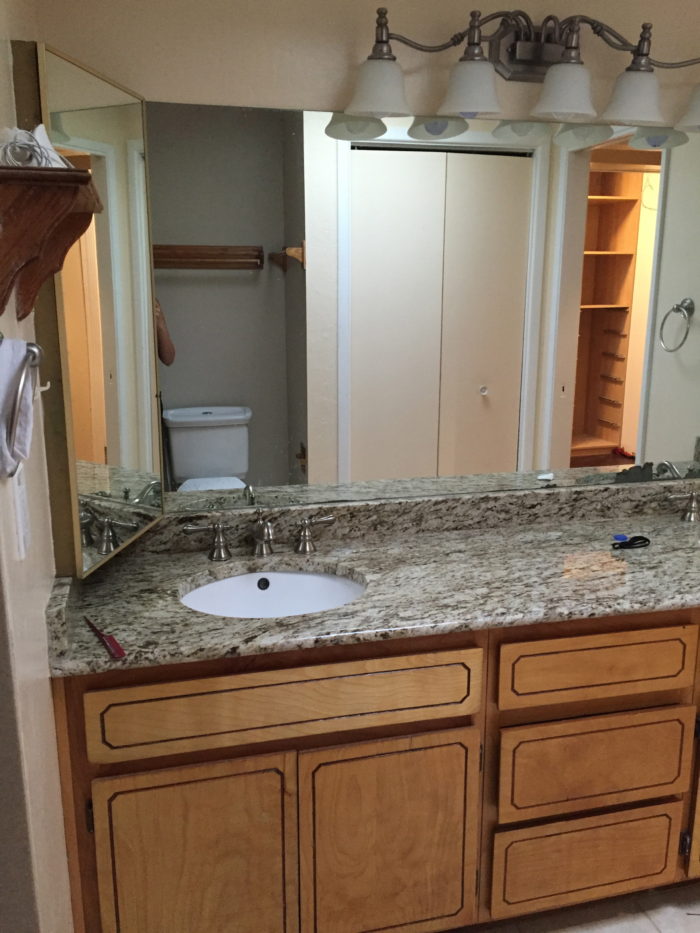 This is the closet in our room that we took out, and the rest were in the bathroom or right outside it: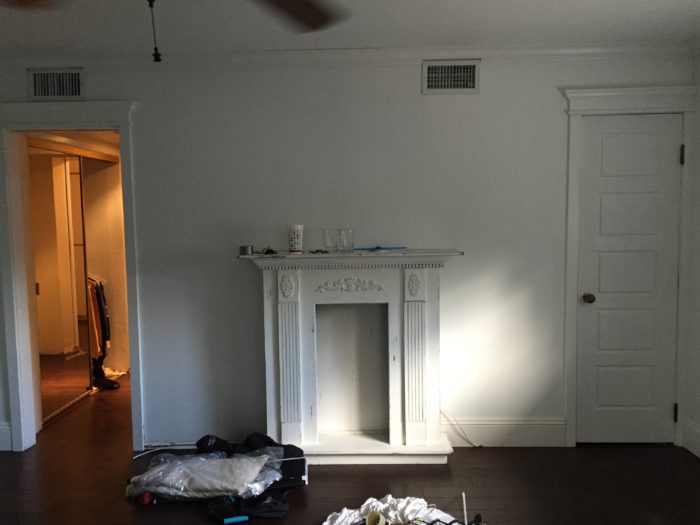 By taking out all those closets, we were able to add SO much to the actual bathroom! Before we had a hideous peach tub/shower, no separate toilet area, and everything else was just plain bad.
After this renovation we now have this!!!!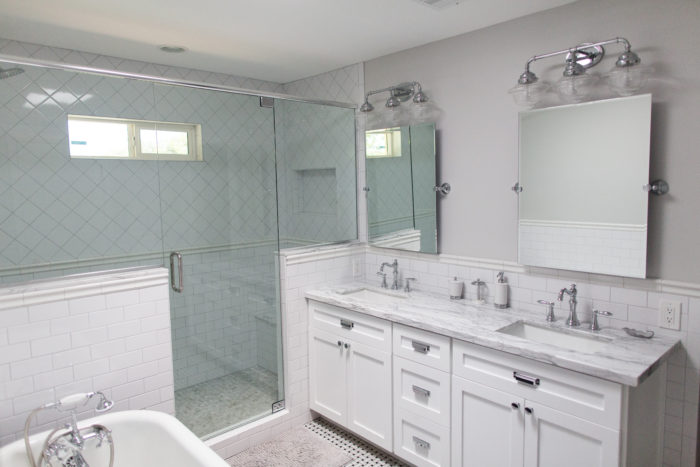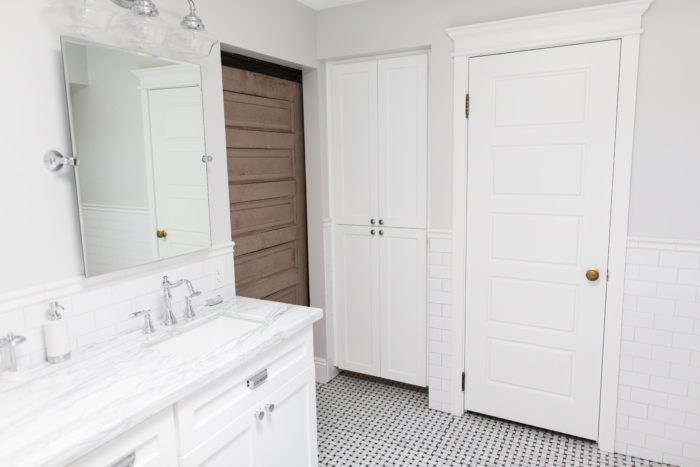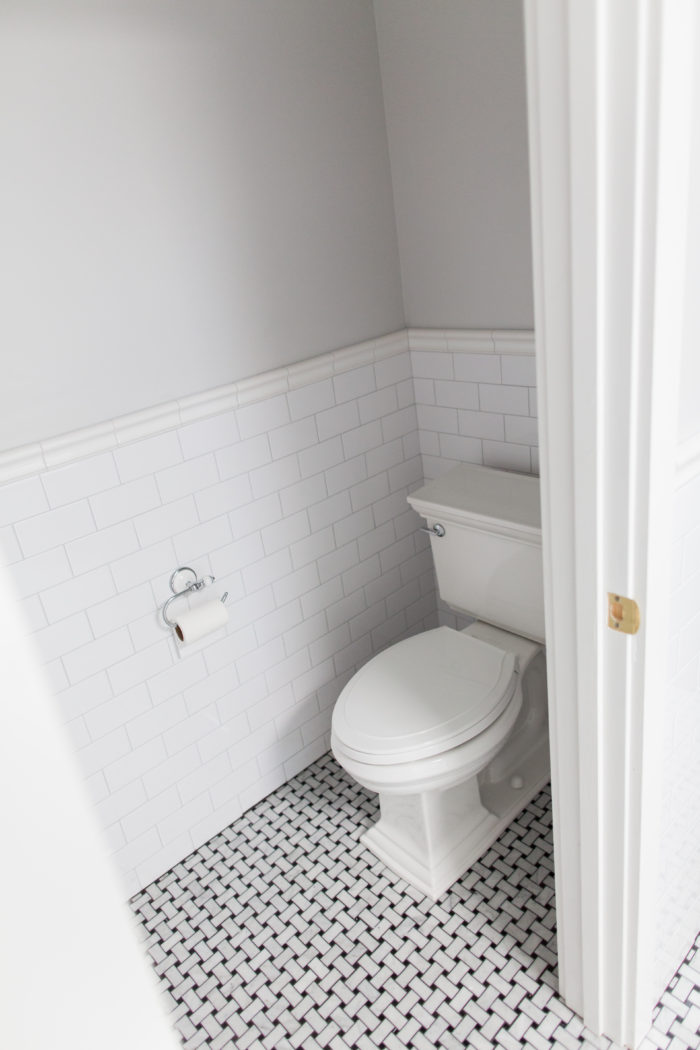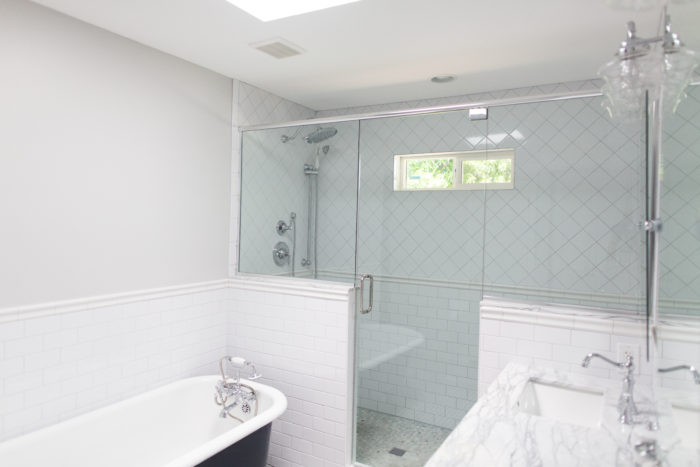 The huge walk-in shower is stinking amazing for being able to throw the boys in and let them play and get clean. It has an awesome bench on the other side, as well as a built-in nook. We've swapped out those hideous towel racks for some a free standing towel rail too! It's similar to what can be seen on EasyHomeConcepts.com and as it's free standing, we just bring it into the bathroom when we need it. The boys can throw their towels onto it when they hop in the shower and it makes life a lot easier.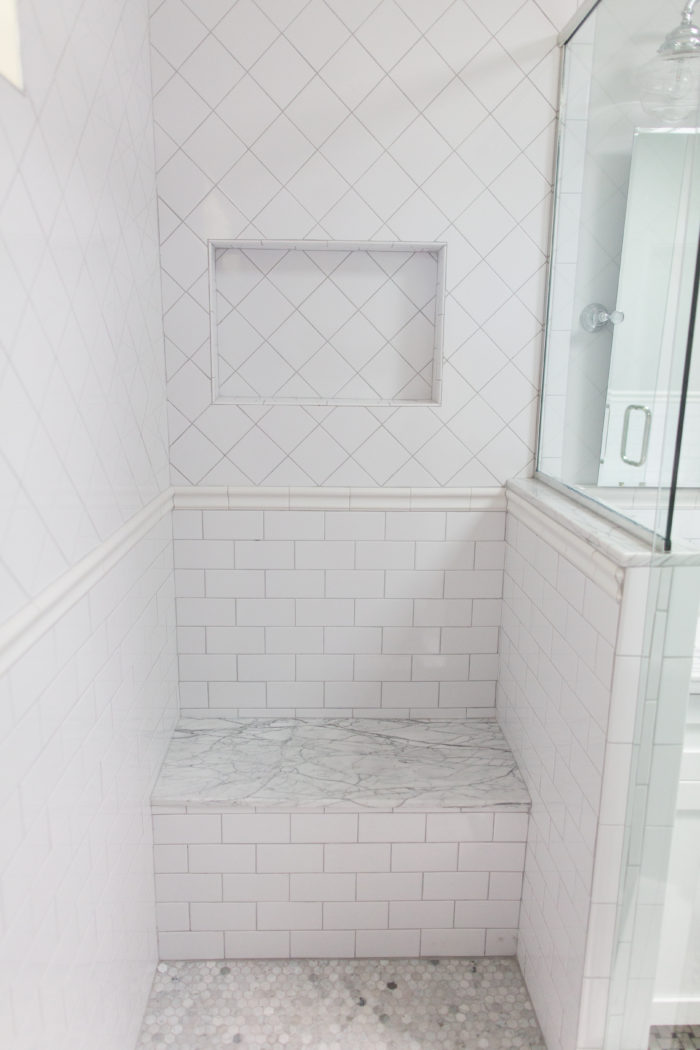 For the shower set up, we went with Moen. I insisted on having not only a massive shower head, but also having a handheld option. To me that is key for cleaning the kids easily, AND cleaning the shower easily. We have used Moen a ton in our flips but never have gotten to use it in our own home, and let me tell you- I am honestly obsessed. before we had pretty cheap to decent stuff, and you can tell the difference in this in every way. Even the way it feels when turning the handles is different. You can tell it is quality.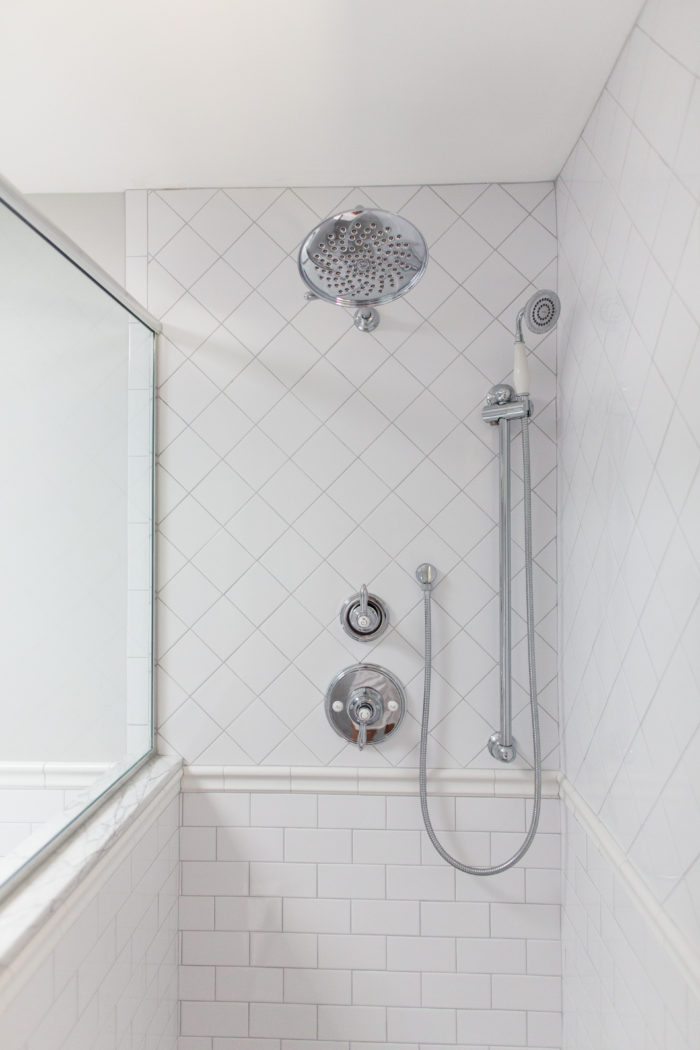 For the bathroom vanity we had the cabinets custom built. That was one of the huge hangups we had. We had a guy start the cabinets for us, and then he got hurt and simply stopped calling our contractor back. So we had to find a new guy, and then wait the 2 weeks it generally takes to have the cabinets built. To us its worth it to have them be custom though so we can make them exactly how we want.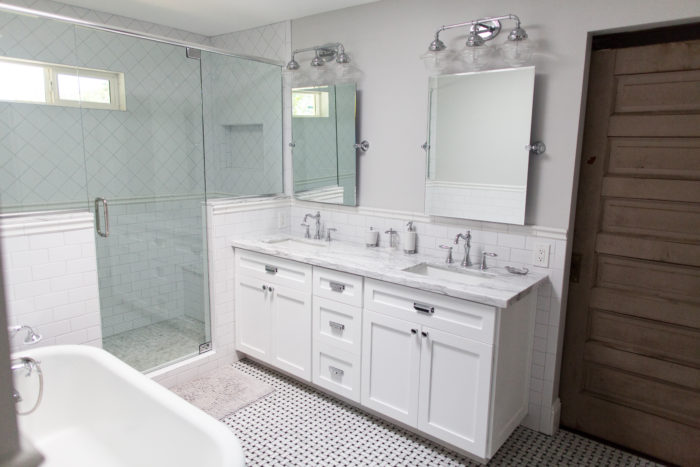 We did a subway tile wainscoting throughout the whole bathroom and carried it on as a backsplash for the vanity. The counters are stunnnnning friends! We have never had Marble in our home because I have always been terrified of it. I am a clean type of person, BUT I use my home. I was just nervous that I would have to always be super hesitant and careful with them, so we didn't get them. But everyone always says that the Bathroom is the perfect spot for Marble, so we went for it! That marble mixed with the beautiful faucets from Moen are perfect! I love the high arc of the faucets, and just like the shower head- you can totally tell its a seriously high quality.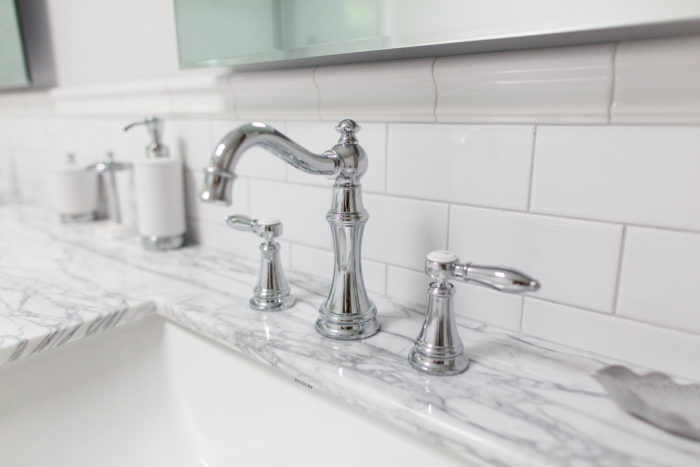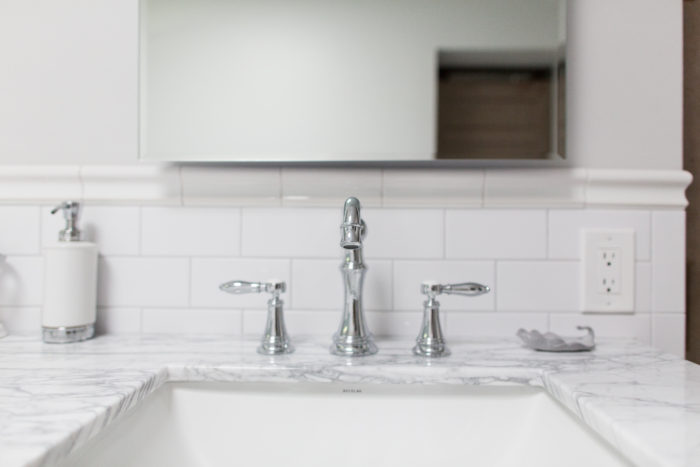 The tub was one of my most favorite additions. I have always dreamed of having a clawfoot tub- and now its my reality!! We had it re-sealed, and for whatever reason it never set properly. So when we went to take a bath, our feet prints were permanently smashed in it. Obviously not ideal! So another thing that held us up! The guy came back, scraped it all down again, and re-sealed it and it worked! We painted the bottom of the tub in a dark Navy which was fun since its the only color in the room.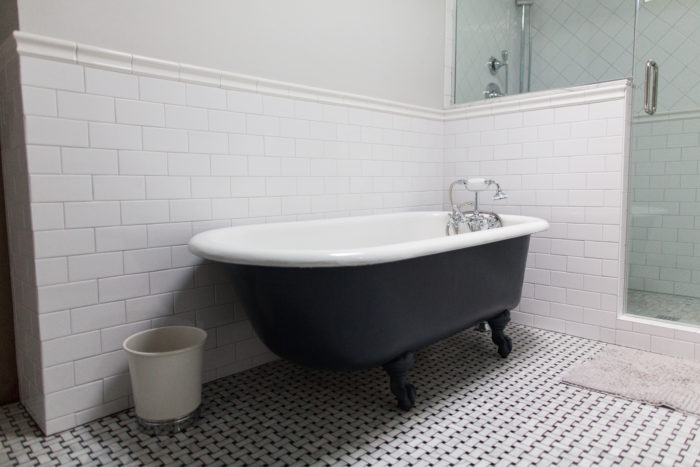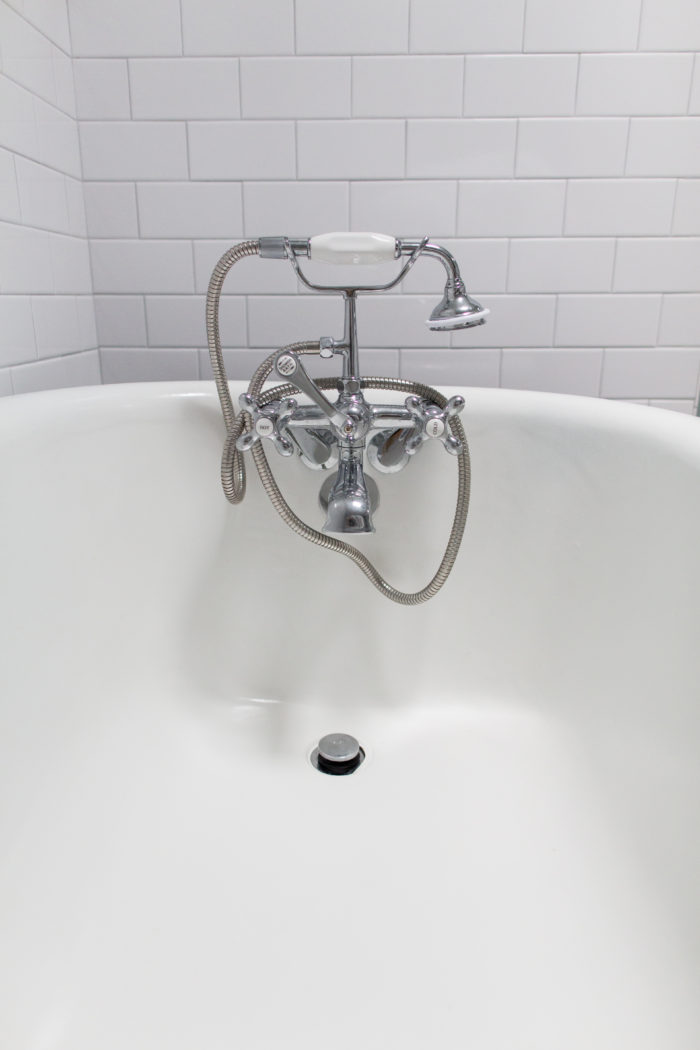 The fact that we can soak in the tub, and then use the lever to kind of shower off is amazing!
And we have a separate toilet room. Its a wifes dream come true lol.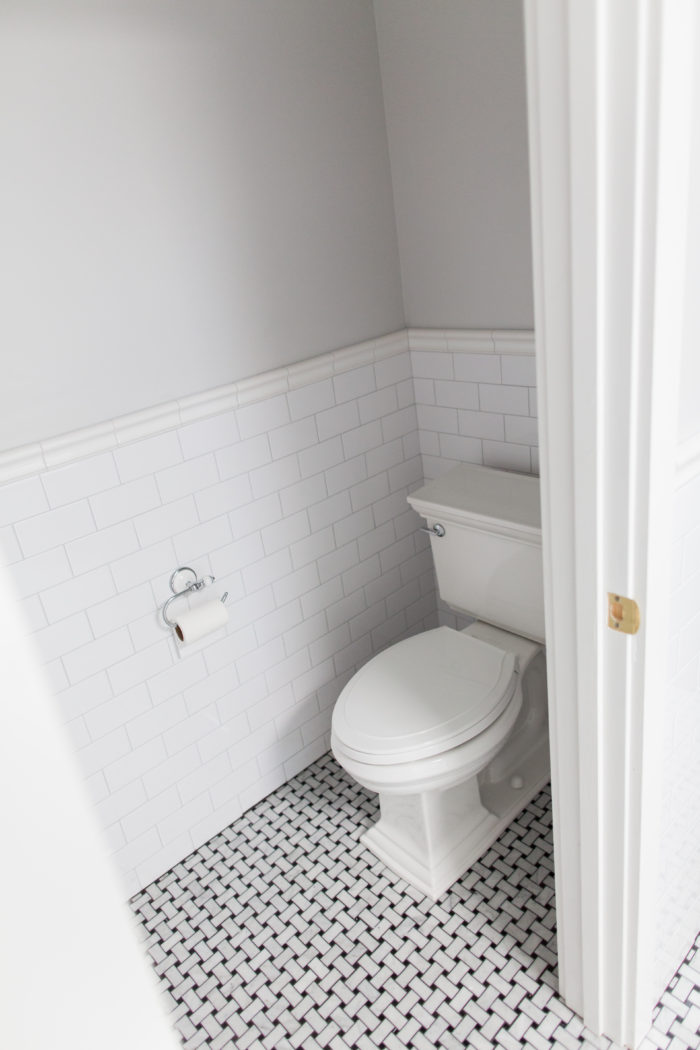 We went with antique barndoors from Antiquities Warehouse to separate the bathroom from the bedroom and from the closet. They are huge and amazing!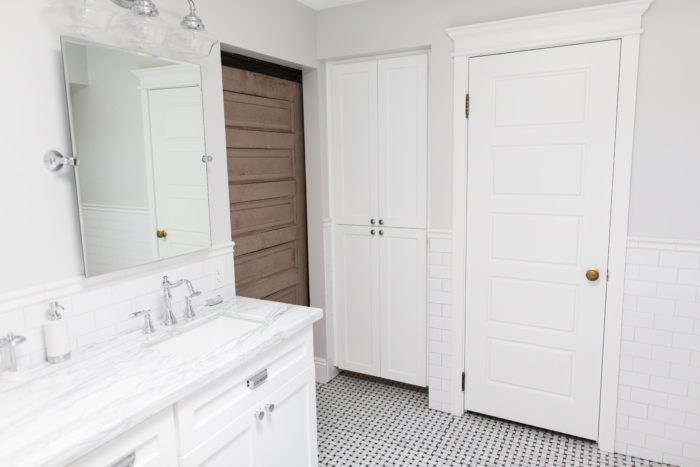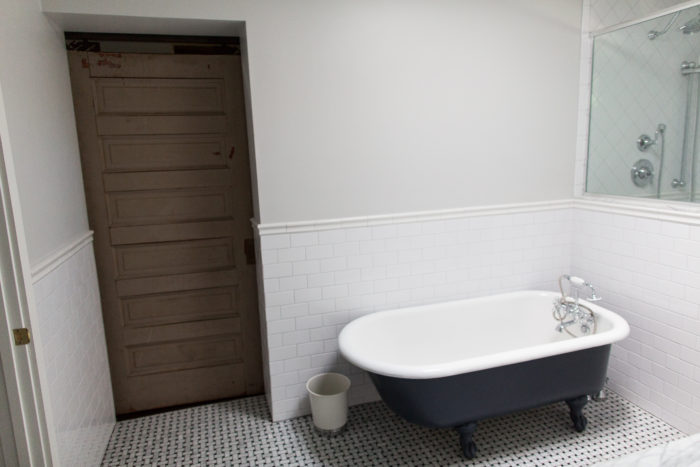 Thats it friends! The whole Master bath! It took awhile, but man was it worth the wait! I'll link up all our sources below. Hope you loved it!
Sources:
Cast Iron clawfoot tub from Craigslist
Tub Filler from Signature Hardware
Countertops:Bianco Venatino
Undermount sink from Decolav
Barndoors from Antiquities Warehouse