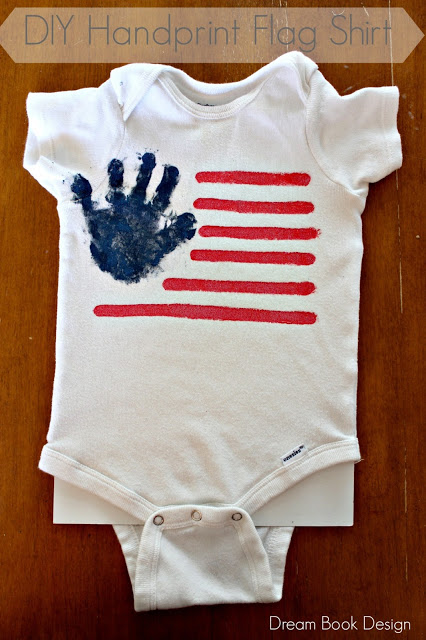 I did it you guys. I made a super cheesy, yet so adorable, craft with my baby. I always knew I would end up just loving doing these ridiculous crafts once I became a mom, but man- they are still cheesy:)
I actually followed up with an inspiration image I got from my round-up of 4th of July crafts and food. Bray and I made the flag shirt yesterday and it is super cute. Better than it turning out cute though? It was super easy. And thats a combo I like. Adding to the combo I like is the fact that you need very few items to complete the shirt.
White shirt/onesie/tank
Red and Blue fabric paint
Small brush
Cardboard for inside the shirt, so the paint doesn't bleed
At first we tried to put just a little blue paint on Brays hand, and that did not work. The print was barely visible. Next up, we just let him go to town rubbing the paint from the plate all over his hand…and it worked!
I realized as I was writing this that it seemed kinda silly that I don't have any in-action shots of Bray doing his handprint, and then I realized that trying to snap a photo of that moment is just too insane. Baby+paint=hot hot mess!
Hope you guys have been having fun doing any prep for the Holiday. Do you and your family have any fun traditions for the 4th? Certain food thats always made?
Check out more 4th of July and Memorial day inspiration and projects:
An awesome roundup of all things Red, White, and Blue here AND here
A paint stick American Flag DIY
Red, White, and Blue party hosting- with recipes, decor, etc.
A DIY Jenga game set, perfect for your outdoor parties!