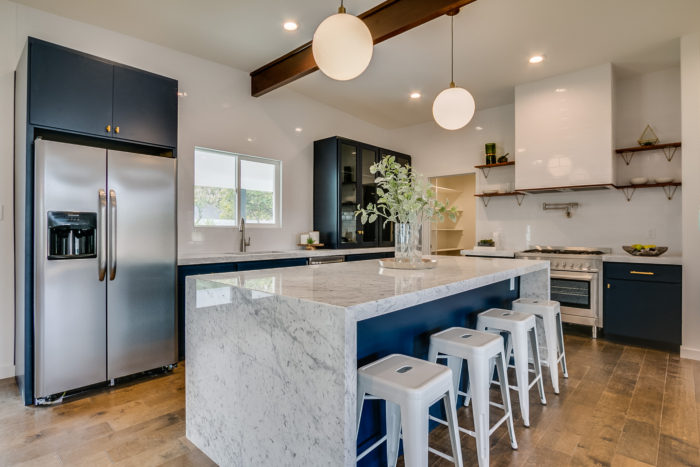 You see that beauty up there? Well this is what it started as: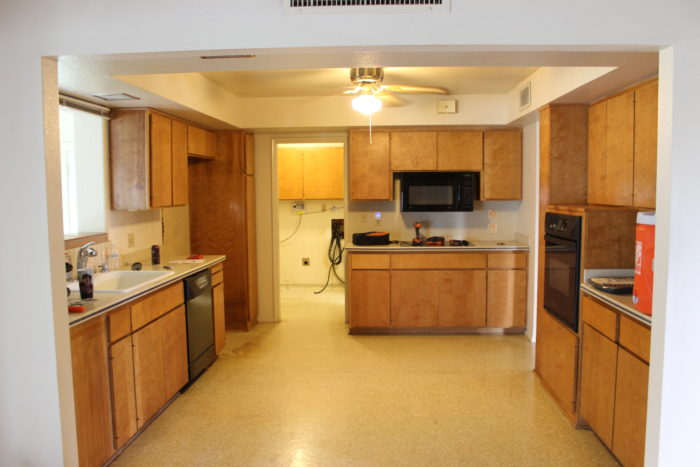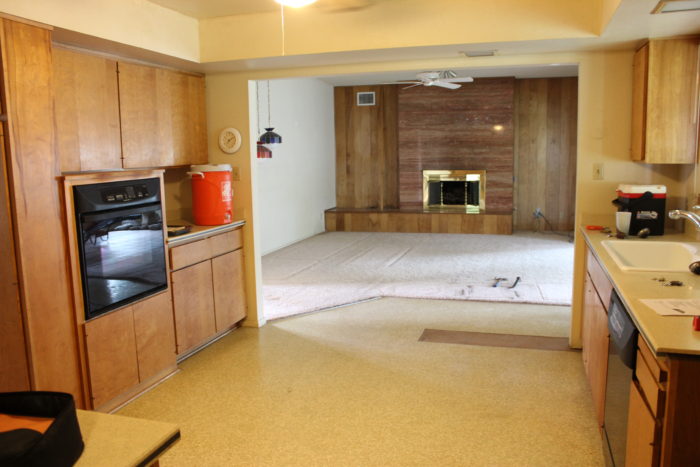 We knew immediately that it had to go. We played around with the idea of actually trying to salvage the cabinets because they were actually pretty great, but in the end we just didn't have enough of them to make it work.
We took out a huge wall which really opened up the space and created a great flow from the kitchen to the rest of the living space. Doing something on this scale for any homeowner can be very full-on, as you can see, practically everything was changed. So if you are getting inspiration from this and want to do something similar or even just go your own way with it, it is highly important you have everything you need before starting. For example, if you are low on money, you may want to check out an Equity Release max interest calculator to see how this can contribute to your renovation, but it is always important to speak to professionals first before diving in as you want to make the right choice and end up with something you are proud of.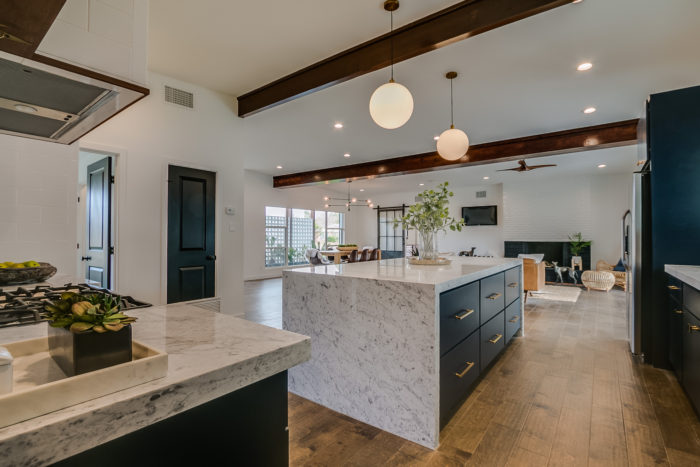 The island guys, that style of island is what we have dreamed of for so many flips- and we finally were able to do it in this one! The waterfall edge makes that counter even more beautiful.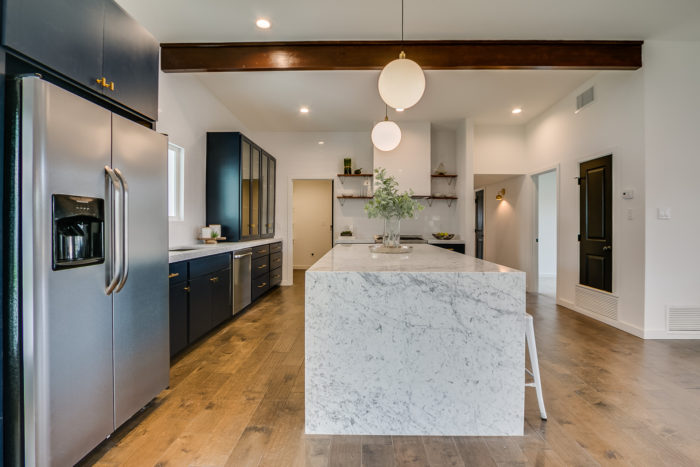 And the deep Navy cabinets mixed with the Brass hardware is such a pretty contrast. We wanted to do a good mix of closed cabinets, glass cabinets, AND open shelving. That way pretty things can be displayed, but all those real life ugly plastic sippy cups, well those can be tucked away;)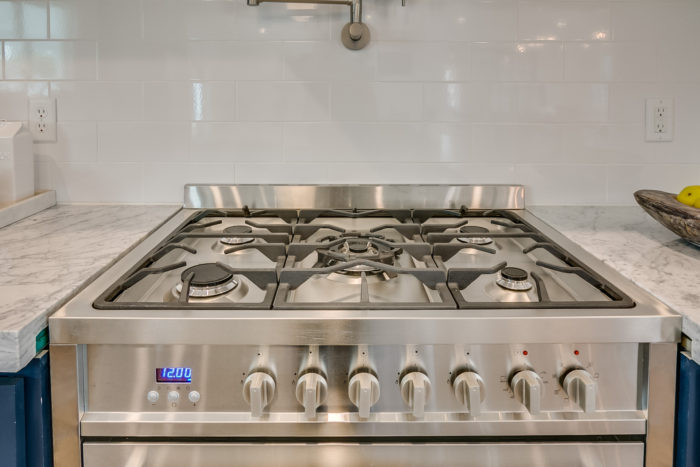 We used our favorite Pot filler and Faucet from Moen and as always, love them. They are super sleek without being too modern, and the quality is unparalleled. And as usual, I am envious of every home we do with a Pot Filler, since even my own home doesn't have one! Haha. And that sink- y'all you could easily bathe TWO babies in there with room for them to splash! What- you don't think first of bathing kids for sink sizes? Well, then, you could easily fit all the dishes from a 5 course meal in there- with the hopes that your hubby will catch a hint and do them for you:)
The backsplash is a classic white subway tile. We considered doing something a little different, but figured with the dark cabinets, waterfall island, and unique upper cabinets, we wanted the backsplash to remain neutral to be able to let the others shine!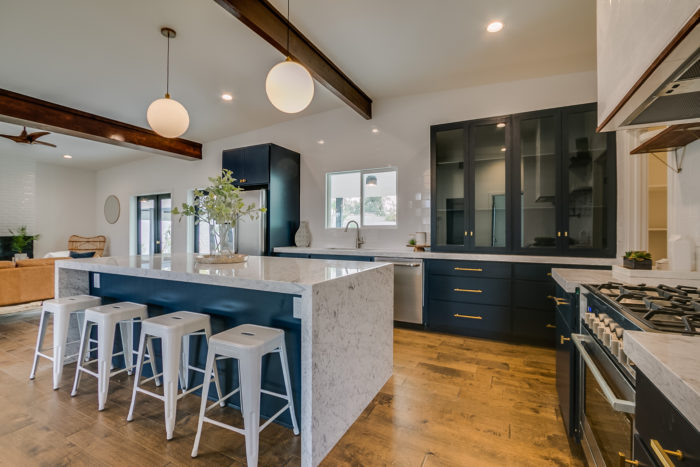 Just off the kitchen is the Pantry and Laundry Room. It has more than enough space for both, and is super convenient where it is. The washer and dryer can be stacked and still leave you a ton of space! I could only dream of having a walk in Pantry, so again- this homeowner is winning in my book;)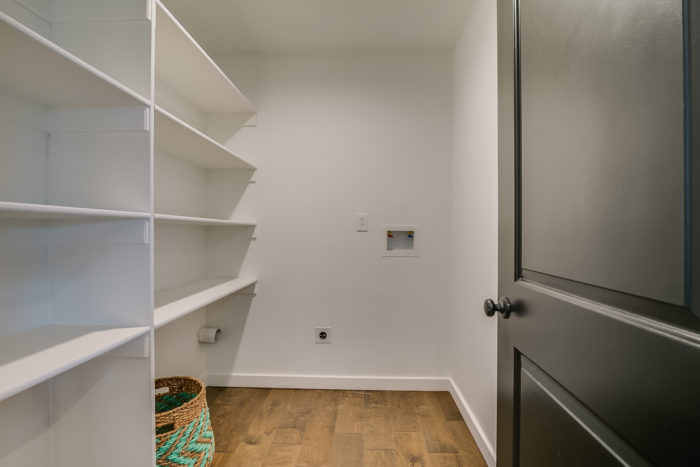 If the person that buys this home is anything like me, they are going to just love having the kitchen open to the rest of the home. I am always in the kitchen. Like, if I set a timer and started it every time I stepped in to my kitchen a day, I would honestly guess I spend at least an hour in there all together. SO, to have it all be open and not feel like you are separated from the rest of the home and family, its perfect!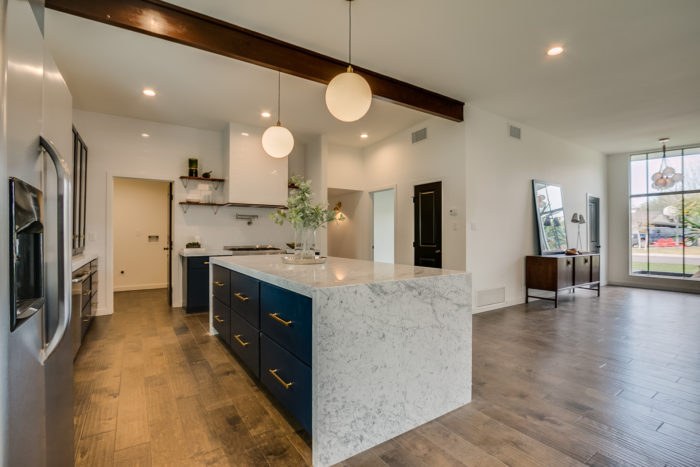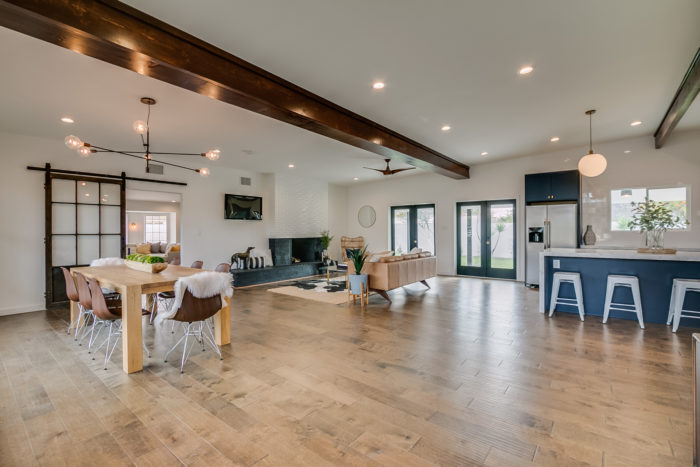 Sources:
Countertops:Bianco Gioia- AZ Tile
Sink Faucet: Moen
Stainless Steel sink: Moen
Paint color: Sherwin Williams- Anchor Aweigh
Backsplash: 4×10 subway tile
Pot Filler: Moen
Wood shelf brackets: West Elm
Hardware: Cool Knobs and Pulls