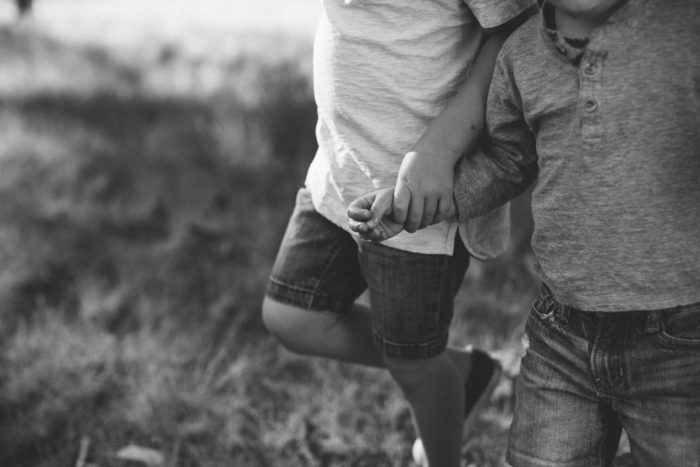 I don't know how your morning started out, but mine was rough. We had been up for approximately two hours and Winston had already been sent to his room five times. Yes, you read that right, FIVE times. Tuesdays are always the most chaotic morning of the week. And it seems that no matter how much I try and prepare for them the night before, they always still manage to be crazy.
As a mom, wife, business owner, friend, etc. I can often find myself thinking that I am not balancing it all well. I get down on myself for not spending enough time with my children one day, and then the next day its about my hubby, and the next about the business. I want to excel at every single thing I do. I want to give ALL of it my ALL.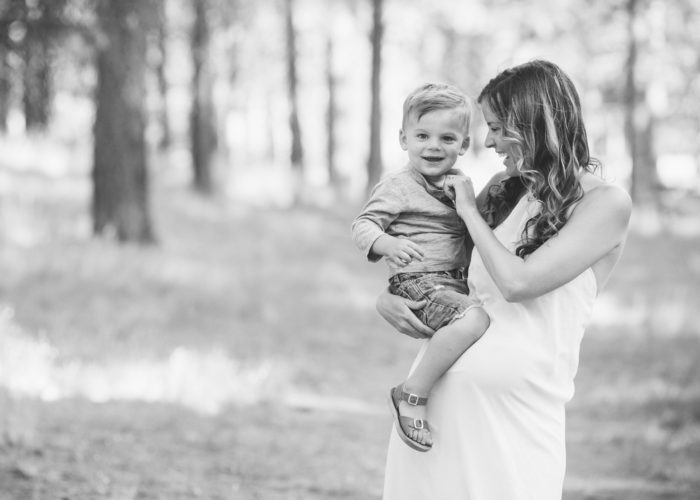 So when Winston was having his fifth melt down, and I simply wanted crawl back in to bed and not face the day anymore, I was thankful to have something keep repeating in my head. I had read a great devotional my sweet friend Hadley sent me right when I woke up this morning. This is a little clip from it:
"Was I going to believe God and begin seeing myself as God saw me, or was I going to continue believing the lies of the enemy and the echoes of my past? Was I going to remain stuck in a stagnant faith because I was too insecure to take a step toward the abundant life Jesus had promised, or was I going to march confidently around the walls of my inadequacies until they came tumbling down?
Finally I prayed, Dear God, I'm going to believe who You say I am. I don't feel it. I can barely think it. But I'm going to believe Your Word is true for me and about me."
Did you see that last part? I AM GOING TO BELIEVE WHO YOU SAY I AM.
I am not a hot mess. I am not a cluster. I am not a failure. I am not less than.
I am the daughter to a King. I am chosen. I am DEARLY loved. I am holy. I have the mind of Christ. I can do ALL things through Christ.
So friends, I want to encourage you today. If you are feeling inadequate, overwhelmed, less than…know you are NOT. You are MORE than enough. You CAN do anything. You are free. You are worthy.
What a beautiful thing Christ can do. He can turn my imperfect self into someone he sees as whole. I am forever grateful.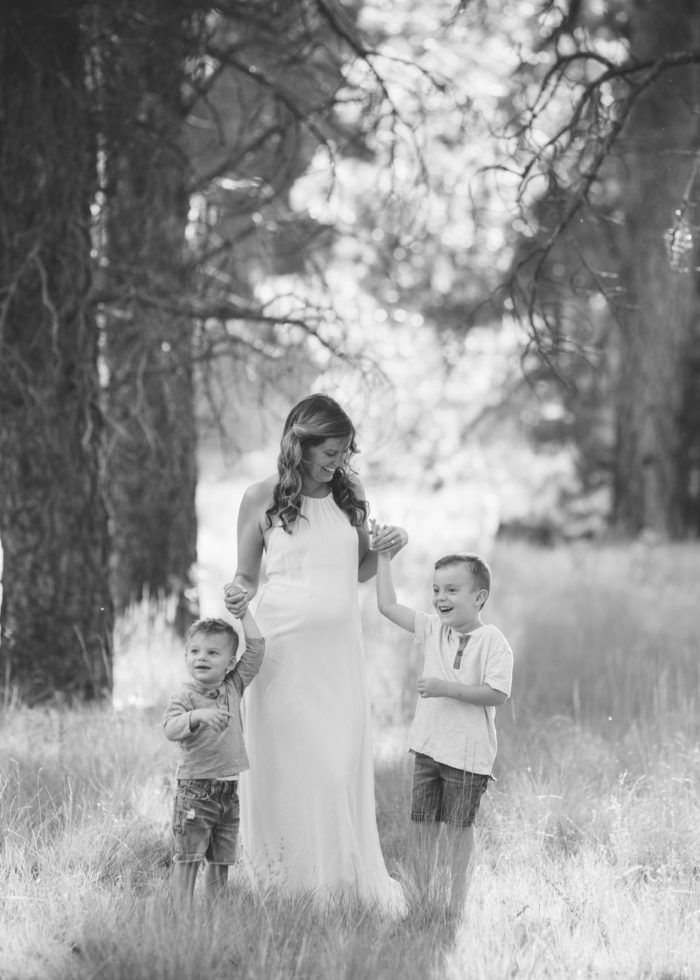 Filed Under: All Things Mama And Baby, Life as We Know it
Thank you to Evenflo for kindly sponsoring this post. All opinions are 100% honest & completely my own.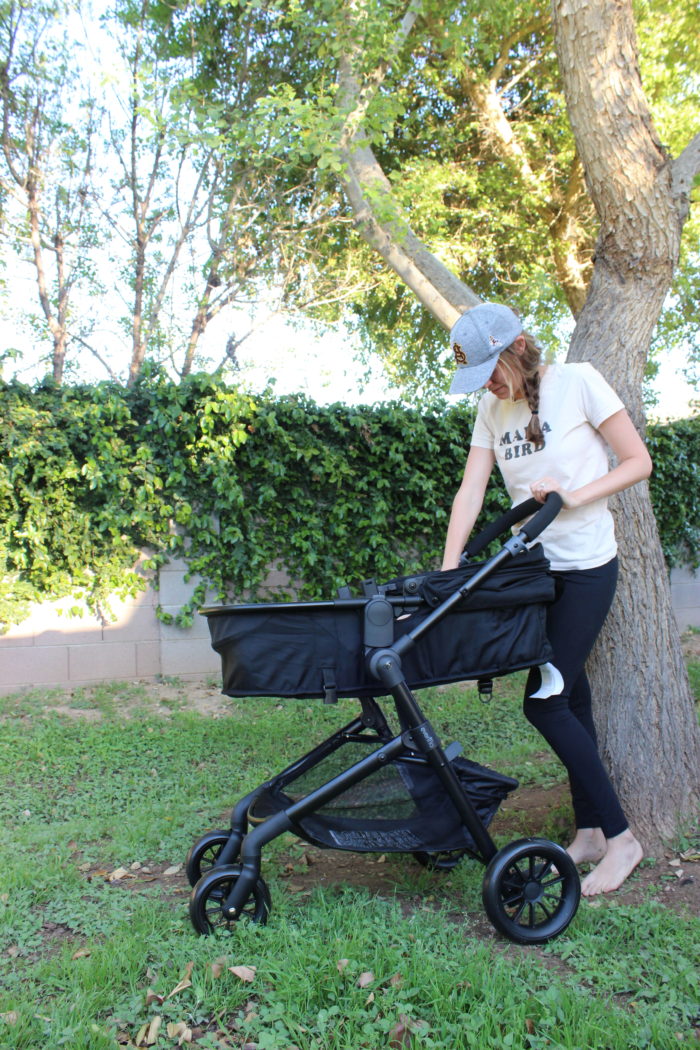 You guys want to know a question I get ALL the time?
"How on earth do you get out of the house with three kids? How do you grocery shop, go to the park, run errands, etc?"
And heres the truth- you JUST DO IT. Haha, but really, running errands with three kids in-tow might not be my most favorite thing ever, but it happens on the daily. But even something as simple as playing in our backyard can be crazy with three. Don't believe me?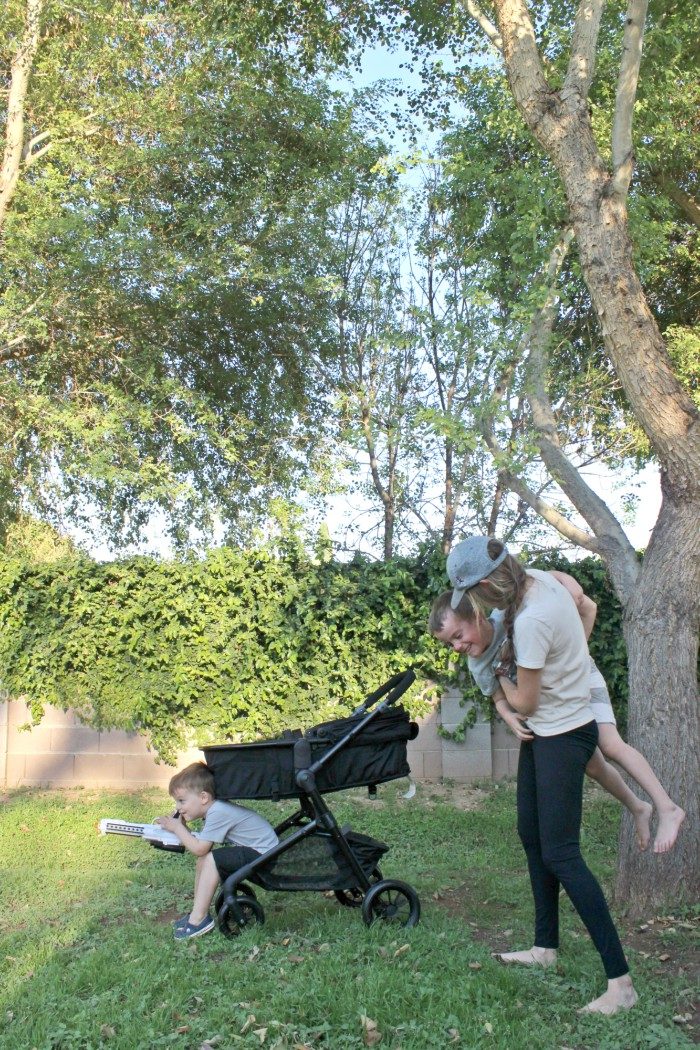 Basically, what I have learned from 5 years of parenting is this:
-Be as prepared as possible for whatever
-Have snack, wipes, and diapers on hand at all times
-Have awesome and trustworthy baby gear, like this Evenflo travel system
The main difference from two kids to three for me was how much I use my stroller this time around. I rarely used my stroller when I just had Bray, and even still once Winston came along. It was always just easier to hold one in my arms and hold the others hand. Or as they got older, just hold both their hands while walking. But now, well now I am totally outnumbered and those are no longer options!
I got this Evenflo Pivot travel system and I am in love. Not only does it give me the ability to have sweet Georgia easily transfer from her car seat to riding in the stroller, but it also has a fantastic 'big kid' seat that lays all the way flat to create a bassinet. So this girl can either stay in her car seat in the stroller OR ride in the bassinet!
I have never seen a stroller with this type of seat- and its freaking genius if you ask me! I always see strollers that have a separate bassinet option, but I always thought that was foolish since they use that for such a short timespan. But this one coverts easily to a big kid seat, so its perfect!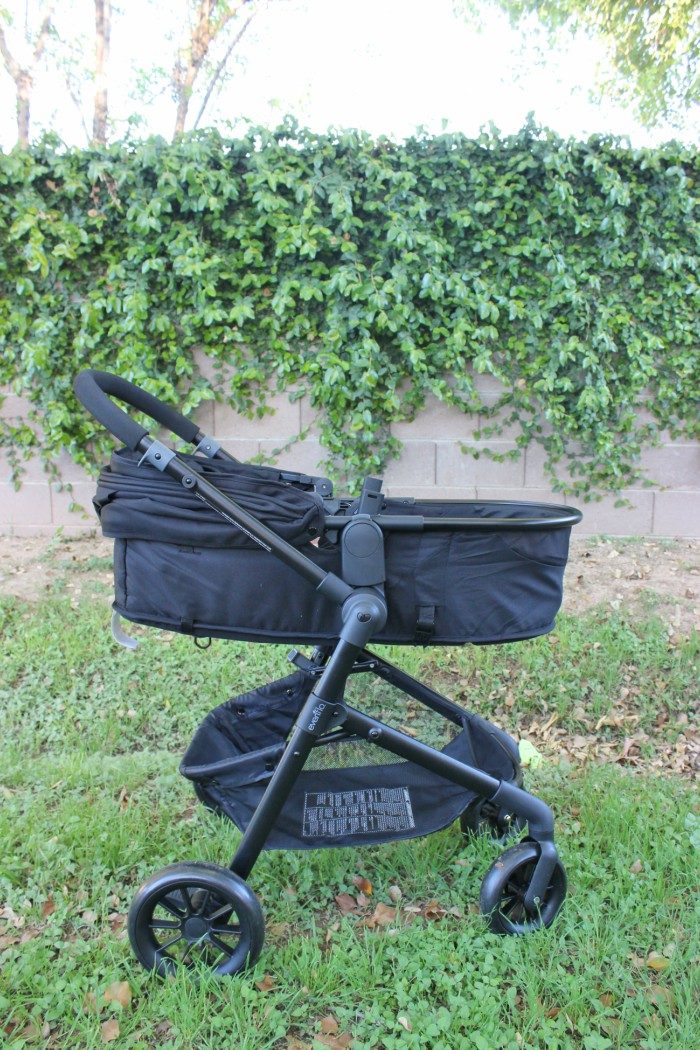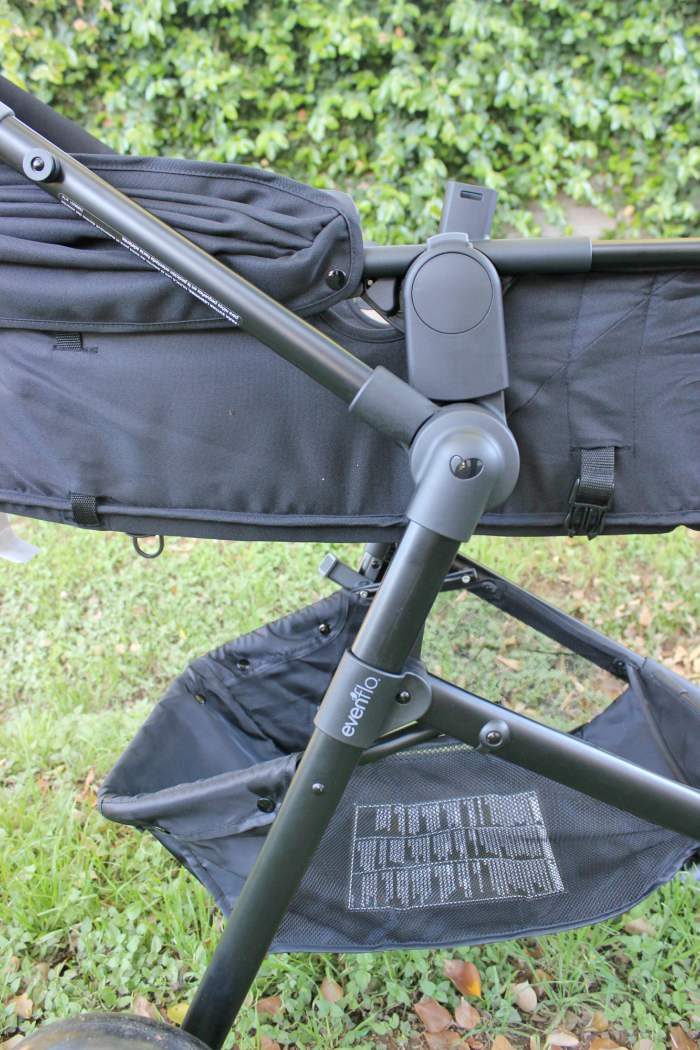 The other day we had some friends over for some water table, trampoline jumping, mac-n-cheese eating fun. The weather was perfect, the kids had a blast, and Georgia got to play sweetly in the bassinet while chaos surrounded her:)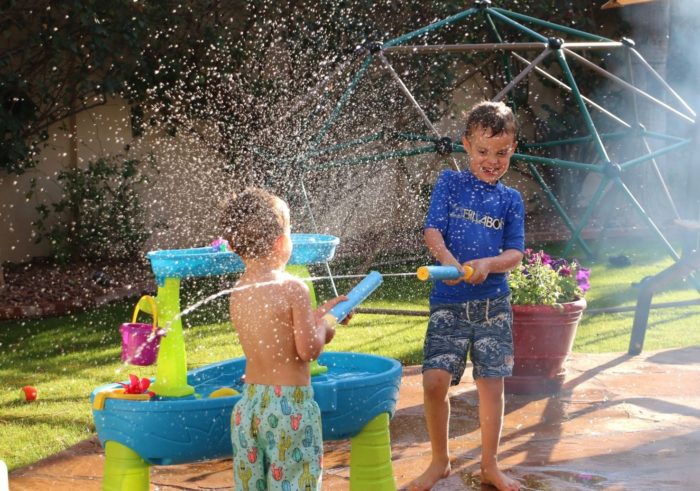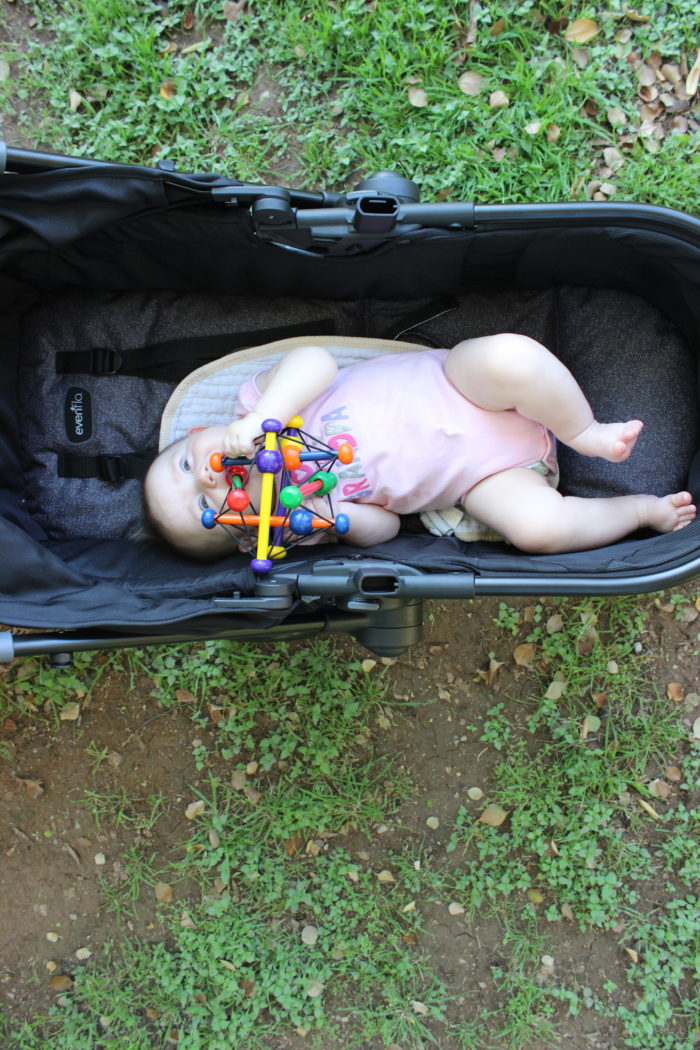 The day was so crazy, but so fun- just like normal. And when it came time for Georgia to have a little snooze I just pulled down the sun shade, and out she went. And if any of you are like me and are always carrying around approximately 2,000 items at a time, the storage underneath this stroller is massive!
So, if you are about to enter the world of babies for the first time, OR are adding to your crazy bunch- get yourself an awesome travel system like this one. Your infant car seat, stroller, bassinet, and big kid seat are all in it. And it rides like a dream. And YES, I do realize how much that last sentence makes me sound like a M.O.M. But really, it does ride really smoothly, so there;)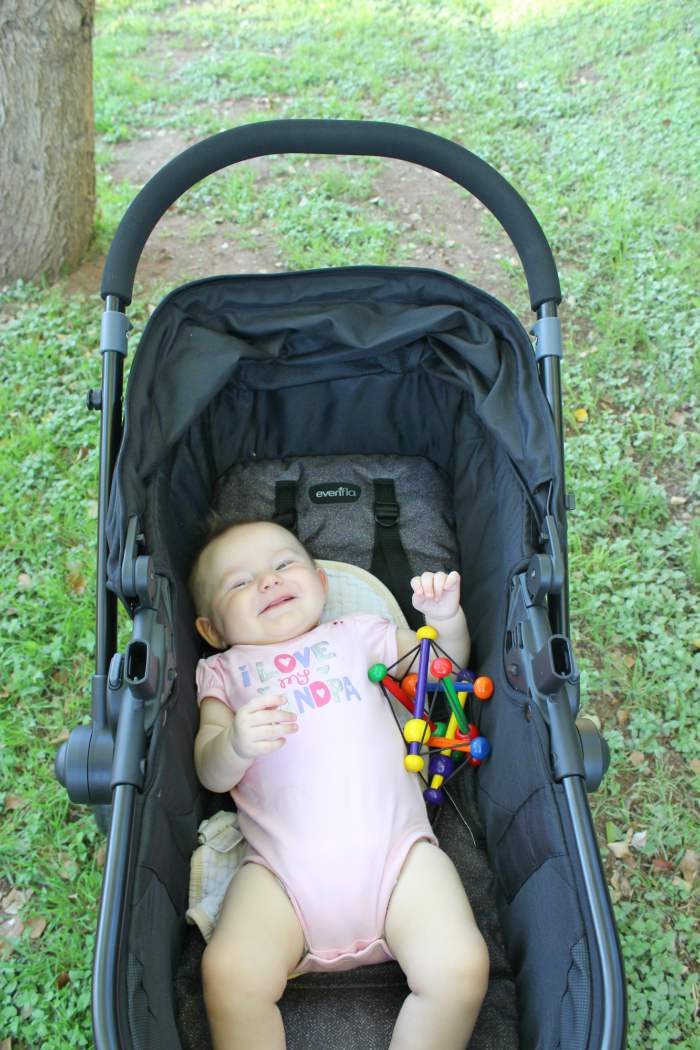 Filed Under: All Things Mama And Baby, Sponsored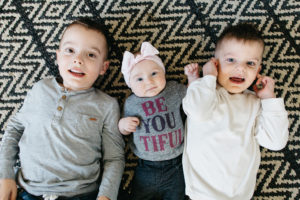 That picture right there is what I would love to portray our transition to three has been like, when in reality- this one below is probably more appropriate: Haha, but really, I just wanted to pop in and let y'all know we are alive and well, but just crazy. No one told me that going to three … Read More →
Filed Under: All Things Mama And Baby, Life as We Know it