Two nights ago it was actually nice enough out to eat dinner outside. Yes, you read that right, Phoenix wasn't miserably hot for a night! And it got me thinking, Fall justttt might be right around the corner. I freakin' love Fall, for many reasons, but one is the fashion.
Fall is all about layering, warm colors, chunky sweaters, etc. and I love everything about it.
Now don't get me wrong, I do get fully dressed some days, but most days I am in some sort of workout clothes, comfy clothes, or basics like jeans and a tee. Obviously pregnancy has taken my effort of dressing cute down a lot, esp. since I barely have things that fit these days- but I have high hopes.
I am hoping that once I have this sweet little girl, that I will miraculously find some energy to be able to together an outfit thats more than yoga pants and tees. Even if its an outfit thats more toned down, like these two:
But then I think to myself, what is the reality of it? I have tons of cute clothes, and yet I almost always reach for comfy and easy. And I don't even get why, since almost all of my clothes are comfy in general. So why don't I spend the extra two minutes and put together something cute rather than just yoga pants and a tee?!
Heres my question: for all you mamas- esp. ones that do wear more than the 'mom uniform', what motivates you best to spend those extra two minutes? Or what are your Fall staples that make throwing together a cute outfit super easy?
Filed Under: Life as We Know it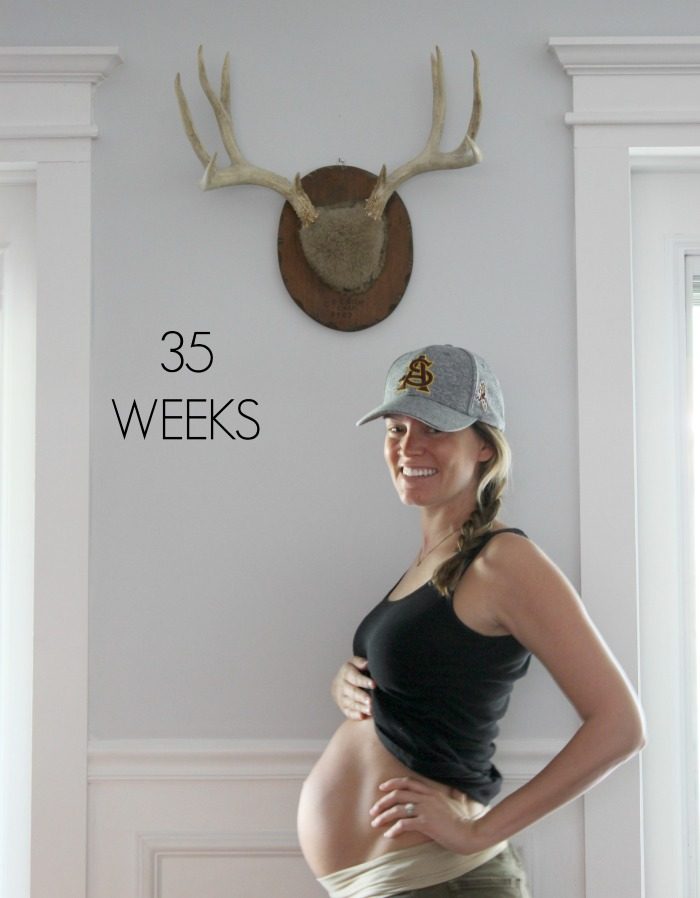 How far along: 35 weeks pregnant! Due September 27th. THIRD TRIMESTER IS HERE!
Total weight gain: Unknown:) Read more about why I changed this here.
Maternity clothes: Basically everything is maternity OR multiple sizes up!
Stretch marks: Still nothing happening yet:) But I am using a combo of old and new tricks to keep them away. The Mama Mio oil I have used with the past two pregnancies has kept me almost completely stretch mark free, so i'm sticking with it. But I am also adding in a drop of Gentle Baby and Frankincense Young Living essential oils.
Sleep: Taking a daily nap, and sleeping decently at night. The roll it takes to get out of bed is hilarious.
Best moment of this week: Honestly, my doctors appointment this week!
Miss anything: Moving around without grunting to get up, haha. And materialistic as it is, I miss my clothes. My closet is full of fun clothes that I cant fit in to, but its all good.
Movement: Her movements are SO big, and sometimes painful now too!
Food cravings: For the first time, nothing really. WOAH!
Anything making you queasy or sick: nada!
Have you started to show yet: Haha this shouldn't be a question anymore.
Gender: A sweet precious baby GIRL!
Labor signs: On Sunday I had contractions for about 5 hours straight- and almost had to go in to the hospital. So today when the doctor told me I wasn't dilated at all yet I was SO happy!!!!!!!!!!!
Belly button in or out: Its out, ALL the way now.
Wedding rings on or off: On!
Happy or moody most of the time: Happy:)
Looking forward to: Jeremy and I are doing a final staycation this weekend for TWO nights and I cannnoottt wait!
Filed Under: All Things Mama And Baby, Pregnancy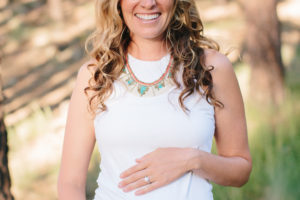 Hi there sweet friends! I recently made a video for the huge Oil Discussion group I am apart of, and I wanted to share it here. I know every girl {and guy} wants to have beautiful skin, and I know that most of us are willing to do just about anything to accomplish that. For years I used skin care … Read More →
Filed Under: Young Living Essential Oils