So remember when we left for Flagstaff three weeks ago, and I said our bathrooms would be done by time we came back home? Ya, thats not happening;) Thankfully it actually wasn't our guys fault at all, they have been rockstar workers. It was actually our tile that has been the big hold up.
When we ordered our beveled subway tile for our Master bath, it said it would be in on the 12th. On the 14th Jeremy got a call saying it was delayed until the end of the month! End.Of.The.Month. Much different than mid-month right?! So that obviously put a serious delay on everything. But its all ok, we are heading home from Flag tomorrow and are going to stay at my in-laws until its all finished.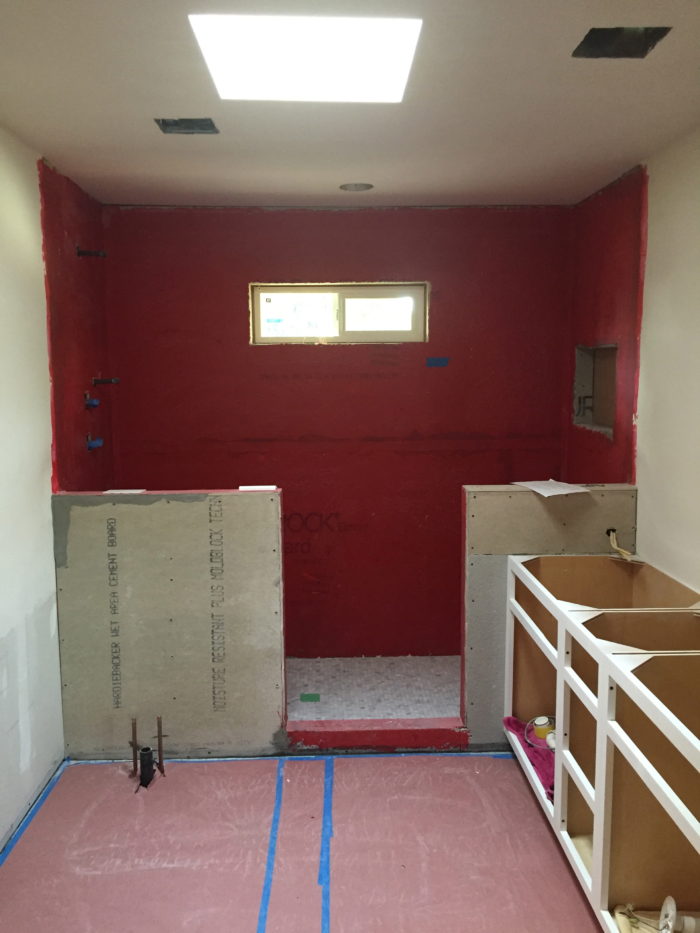 We are making SO much progress though! We have the counters, just not installed yet. The cabinets are almost all the way in. The tub and boys sink are almost all refinished. I know some people might not be excited about the above image, but man it makes me giddy! Its been such a huge change already, and we aren't even done.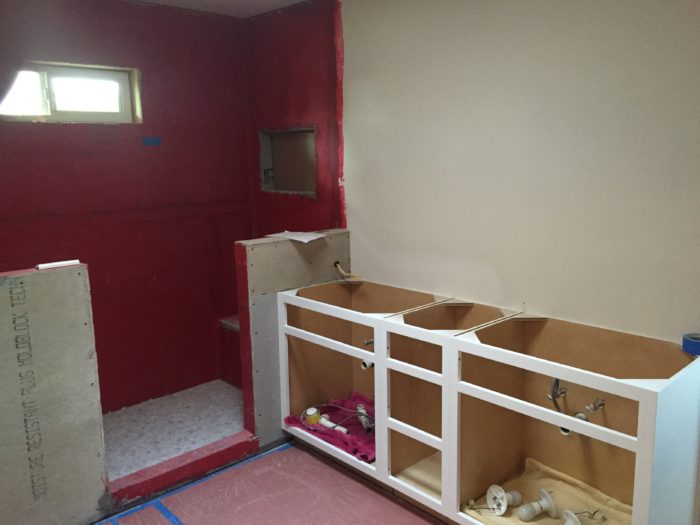 One of the hiccups we ran in to was a big bummer. We took off the drywall on one wall of the boys bathroom to expose the old brick wall. We were SO excited to keep that wall all open and exposed. And then, well then we realized there was a huge hole in it:(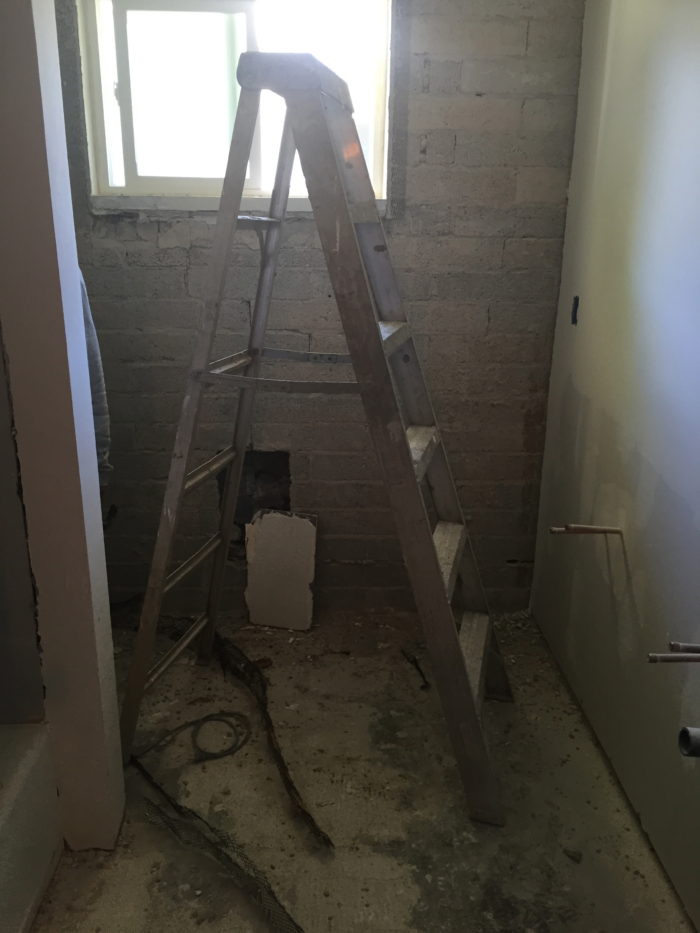 So we compromised and put up tiled wainscoting. It looks good, but I am still a little sad about covering the wall.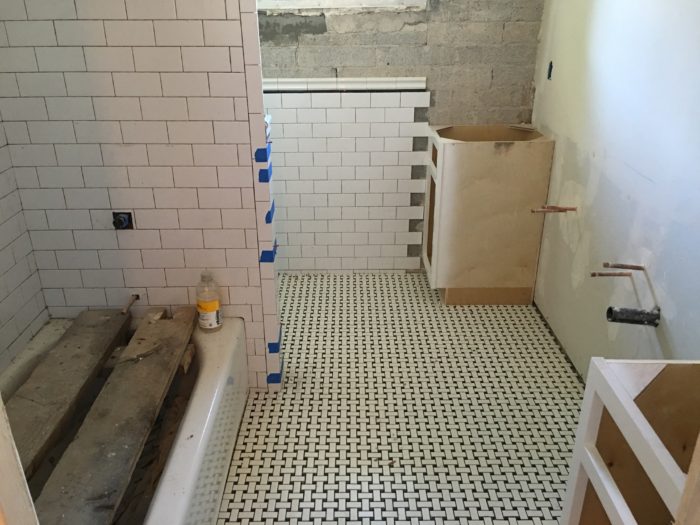 Thats all for now! Can't wait to get home tomorrow just to see it all in person! And there are currently 7 guys at the house working away, so i'm sure it will look even better within 24 hours!
Filed Under: House Projects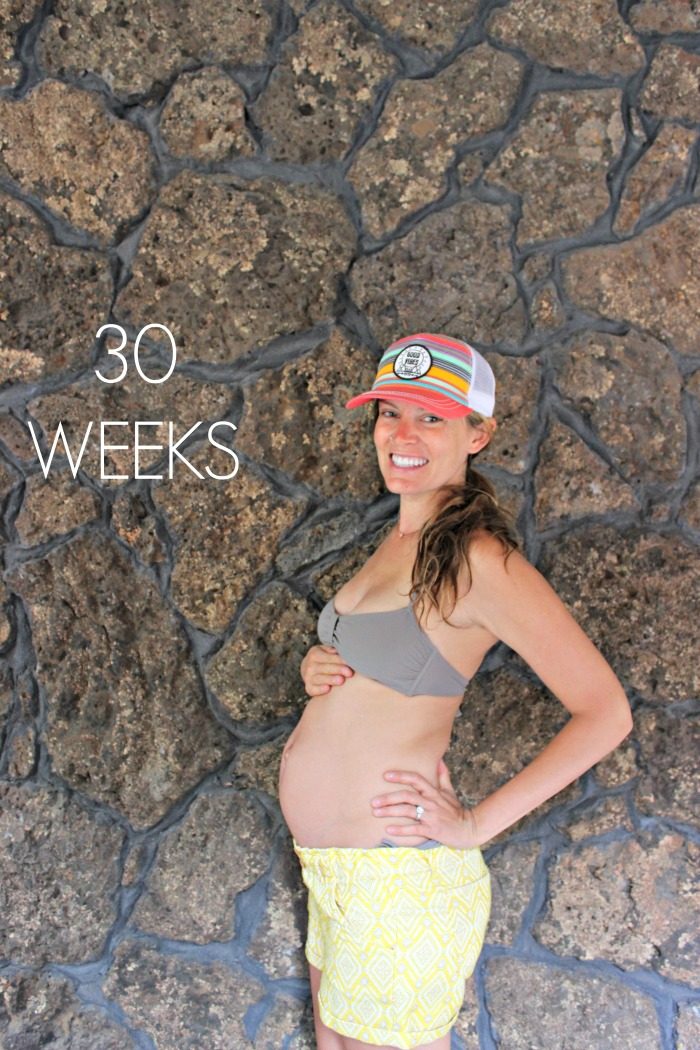 How far along: 30 weeks pregnant! Due September 27th. THIRD TRIMESTER IS HERE!
Total weight gain: Unknown:) Read more about why I changed this here
Maternity clothes: I think I have ONE bottom left that fits, because it is so low rise. Luckily, summer is the season of loose tanks and maxi dresses- so i'll be just fine:) I also bought a few cute pairs of stretchy shorts that will make me feel better about not wearing constant leggings:)
Stretch marks: Nothing happening yet:) But I am using a combo of old and new tricks to keep them away. The Mama Mio oil I have used with the past two pregnancies has kept me almost completely stretch mark free, so i'm sticking with it. But I am also adding in a drop of Gentle Baby and Frankincense Young Living essential oils.
Sleep: Been taking a nap almost every single day up here in Flagstaff- and they are almost an hour each time. The altitude and being go-go-go has been wiping me out!
Best moment of this week: Having so much family time! And going to Lake Mary this weekend with some great friends. We fished, swam, went out on the canoe, made smores- it was just so great!
Miss anything: Beer. Although Jeremy bought be some Odouls and I treat myself to one every now and then.
Movement: Every day now- and it is SUCH a blessing. She seriously moves around all the time, and I can't get enough of it! LOVE this part of pregnancy.
Food cravings: For the first time, nothing really. WOAH!
Anything making you queasy or sick: nada!
Have you started to show yet: Without a doubt!
Gender: A sweet precious baby GIRL!
Labor signs: Braxton Hicks have been super frequent, and I have been getting these really intense sharp pains in my lower belly. Don't know what thats all about, but its not fun.
Belly button in or out: Its out, ALL the way now.
Wedding rings on or off: On!
Happy or moody most of the time: Happy:)
Looking forward to: Our last few days up here. And then when we head back home we actually are staying with Jeremys parents for a few weeks because our bathrooms are definitely not done:/
Filed Under: All Things Mama And Baby, Pregnancy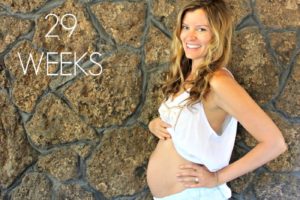 How far along: 29 weeks pregnant! Due September 27th. THIRD TRIMESTER IS HERE! Total weight gain: Unknown:) Read more about why I changed this here Maternity clothes: I think I have ONE bottom left that fits, because it is so low rise. Luckily, summer is the season of loose tanks and maxi … Read More →
Filed Under: All Things Mama And Baby, Pregnancy